BPAP, CHED sign agreement to integrate Service Management Program into SUC curricula
(Manila, Philippines, March 2, 2013) — To scale up educational and training programs and equip employable talent pool with industry-standard skills, the Business Processing Association of the Philippines (BPAP) and Commission on Higher Education (CHED) signed a memorandum of agreement to integrate the Service Management Program (SMP) course into the curriculum of 13 state universities and colleges (SUCs).
The "Collaboration with Project Technical Experts for the Growth Area of Information Technology-Business Process Outsourcing Industry" agreement was signed by BPAP president and CEO Benedict Hernandez and CHED Chairperson Dr. Patricia Licuanan in the presence of BPAP chairman Alfredo Ayala, CHED commissioners, SUC presidents, and industry officials.
"We wanted to create and share a well-designed industry-based curriculum to help in preparing the future workforce for the IT-BPO sector. Through this, we hope not only to raise the competency of the industry but to also lend a hand in developing a more qualified and knowledgeable pool of human resource," said Ayala.
Licuanan said, "This specialized course aims to prepare students from all types of traditional courses, especially those taking up business administration and information technology, for a career in the IT-BPO and GIC industry while still in college. SMP will equip them with the competencies needed for entry-level positions and future career development. Our collaboration with BPAP will surely help in maximizing this program to its potential."
Currently offered in universities and colleges in addition to existing courses, SMP aims to increase employability of 20,000 students and provide training to 500 teachers for SY 2013-2014. Jointly developed by the IT-BPO industry and academe, the program is designed to enhance competencies in learning ability, critical thinking, communication, service culture, and computer literacy.
By undergoing the 21-unit training program, students will take up subjects such as Fundamentals of Business Outsourcing 101 and 102, Business Communications, Service Culture, Principles of System Thinking, and a semester for an Internship Program that will help them understand and eventually adapt to a possible career in the industry. As a precedent course, they will be introduced to other IT-BPO avenues they may choose to pursue after finishing the study. The course also includes career opportunities in BPO, finance, health care, tourism, and hotel and restaurant management.
An industry road map projects that the information technology and business process outsourcing (IT-BPO) and global in-house centers (GIC) industry will employ 1.3 million Filipinos by 2016. SMP is the industry's response to the growing demand for a sustainable supply of highly qualified employees.
According to Benedict Hernandez, BPAP president and CEO, the industry is working closely with the government and private educational institutions to design and administer curricula aligned with the industry requirements. "As the fastest-growing private sector in the country, the IT-BPO and GIC industry will continue to employ more people in the coming years. Hence, our goal is to ensure that aspiring professionals can take on the demands of an increasingly competitive global market," said Hernandez.
CHED has also allocated ?125 million for developing project components which includes the Train the Teachers (T3) program. "T3 will kickstart the SMP project by creating an ongoing stream of IT-knowledgeable teachers. The beauty of this agreement with CHED is that it is beneficial not only to the students but to the teachers as well as it will provide training to make it easier for them to effectively communicate the curriculum to the students," Ayala said.
T3 will be conducted through the support of accredited and experienced SMP professionals. The development will be through an "industry faculty" where teachers can train under an actual IT-BPO and GIC work environment. "While our main goal is to increase the competency of college students, we are also indirectly extending the same privilege to the faculty members. Through proper training and immersion, teachers can acquire additional skills as well to increase their marketability," said Hernandez.
Hernandez added, "Through the Service Management Program, we hope to provide the sufficient number of qualified graduates to meet the labor demand of the rapidly growing industry. BPAP will continue to focus on maintaining the Philippines' position as a top destination for voice services and non-voice, complex services."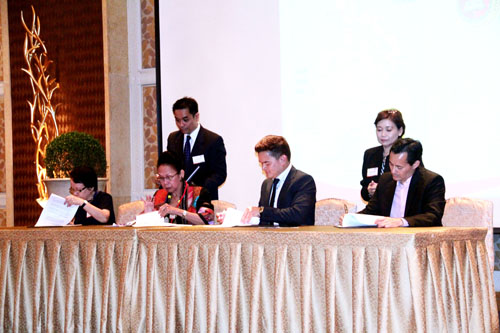 BPAP and CHED officials sign the "Collaboration with Project Technical Experts for the Growth Area of Information Technology-Business Process Outsourcing Industry" agreement. From left to right, are CHED Commissioner Nenalyn P. Defensor; CHED Chairperson Patricia B. Licuanan, BPAP President and CEO, Benedict Hernandez; and BPAP Chairman, Alfredo Ayala. The four were assisted by BPAP Executive Director for Finance and PMO Ron Arambulo and  Executive Director for Talent Development Penny Bongato.
About the Business Processing Association of the Philippines
The Business Processing Association of the Philippines (BPAP) is the enabling association for the IT-BPO and GIC (global in-house center) industry in the Philippines. BPAP serves as the one-stop information and advocacy gateway for the industry. With approximately 300 industry and support-industry members, including five associations—the Animation Council of the Philippines, Inc., Contact Center Association of the Philippines, Game Developers Association of the Philippines, Healthcare Information Management Outsourcing Association of the Philippines, and Philippine Software Industry Association—BPAP plays a pivotal role in sustaining rapid growth of the IT-BPO and GIC industry by working to ensure an enduring supply of high quality labor, supporting service innovation, and providing country visibility.
BPAP assists investors in setting up operations easily and quickly in the Philippines. Relevant research, introductions to key government and industry officials, and a series of briefings at each step of the investment process ensure a seamless development process. Ongoing support is provided through a wide variety of initiatives, including programs for HR development, business development, knowledge sharing and networking opportunities.