Caltex™ Havoline® and ONE Championship™ bring the fight back to Manila
Put the fight back in your engine, with Caltex Havoline.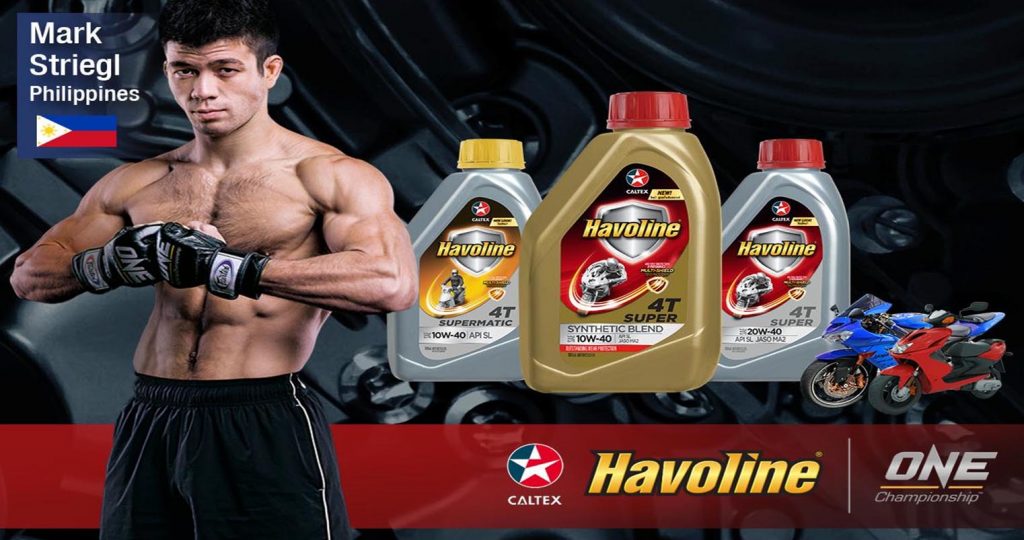 Manila, Philippines, November 2016 — Caltex Havoline and ONE Championship, Asia's leading mixed martial arts promotion, will bring to the Philippines the much anticipated face-off between ONE Heavyweight World Champion Brandon "The Truth" Vera and the Japanese challenger Hideki Sekine.
ONE: Age of Domination, will be held on December 2 at the Mall of Asia Arena in Pasay. The Filipino fighter Vera is expected once again to show his domination in the cage when he faces Sekine.
Another fan favourite is Mark Striegl, a fighter who hails from Baguio City. He will be facing Brazilian Rafael Nunes who has a 10 – 1 fighting record. Striegl, who has a record of 14 wins and 2 losses, is one of the Filipino rising stars in the field of mixed martial arts. Because of his impressive track record as a fighter, Striegl was recently invited to represent Caltex as the brand ambassador for their premium engine oil brand, Havoline.
"Mark really embodies Caltex Havoline; he has consistently shown his excellence in the cage and has proven his worth as an MMA fighter. The hard work that he has put into the arts is exactly the same kind of rigor that Chevron exerts in formulating Caltex Havoline engine oils. His fighting spirit and discipline in training resonates the way we, as Chevron Lubricants, conduct our business," said Joseph N Bronfman, Area Business Manager, Philippines & Vietnam, Chevron Philippines Inc.
Caltex Havoline is ONE Championship's Southeast Asia regional partner for Philippines, Thailand, Malaysia, and Vietnam.
Caltex Havoline believes that, just like the bouts in the ONE Championship cage, our cars often face difficult conditions on the road. But with a proven fighter against wear, friction, and sludge deposits like Havoline, you can be sure that you'll have a smooth and worry-free ride. Havoline's proven strength protects your engine and delivers optimized performance.
"Small engines work harder and they require the toughest engine oil. With Havoline's proven strength, vital engine parts will be protected throughout the oil drain interval. Through this partnership, we hope to underscore the value of using the right oil for car and motorcycle engines," concluded Bronfman.
Under Armour Premiums and Weekly Facebook Contests
Starting from 24 November 2016 until 19 January 2017, participate in our weekly Facebook contests and stand to win limited Under Armour Storm Tech Pack.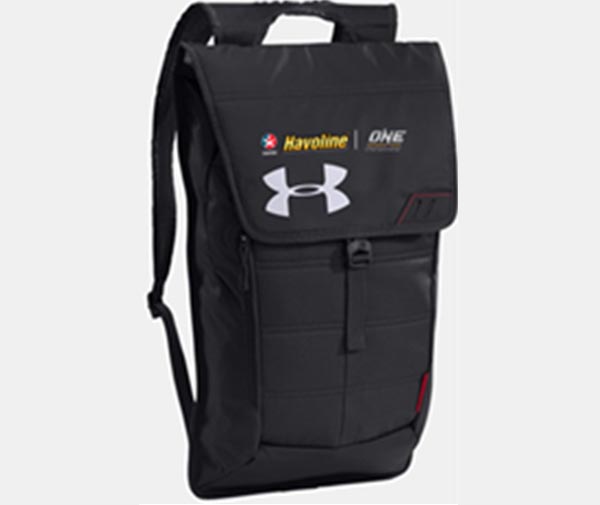 For more information on the 'Put the Fight Back in Your Engine' promotion, visit www.caltex.com/ph.
About Chevron
Chevron is one of the world's leading integrated energy companies, with subsidiaries that conduct business worldwide. The company is involved in virtually every facet of the energy industry. Chevron explores for, produces and transports crude oil and natural gas; refines, markets and distributes transportation fuels and lubricants; manufactures and sells petrochemical products; generates power and produces geothermal energy; provides energy efficiency solutions; and develops the energy resources of the future, including biofuels. Chevron is based in San Ramon, California. More information about Chevron is available at www.chevron.com.
About Chevron Philippines, Inc.
Chevron Philippines, Inc. has been in the Philippines for over 90 years, offering high quality products and services. To date we have more than 700 Caltex stations, and sells a range of petroleum products, including Caltex with Techron® gasoline and Caltex Diesel with Techron®D, kerosene and jet fuel. Chevron has 18 facilities in the Philippines, including major terminals, depots and sales offices. Our import terminal in San Pascual, Batangas, forms the hub of our transportation and supply operations in the Philippines. Chevron also provides jet fuel for airlines at Ninoy Aquino International Airport. Chevron also markets Delo® and Havoline® lubricants, coolants and other lubricating oils and greases through distributors to consumer, commercial and industrial customers. More information on Chevron Philippines, Inc. is available at www.caltex.com/ph.
About Havoline®
Since 1904, Havoline motor oils have provided outstanding performance. In 1946, Havoline introduced its "New and improved Havoline Motor Oil," which for the first time featured additives that inhibited corrosion, provided detergent and dispersive action, reduced piston ring wear at both low and high temperatures, and protected against engine rust. Today's Havoline lives up to its heritage with its latest technology: Havoline with Deposit Shield® Technology, an advanced formulation that protects your engine from harmful deposits to deliver optimum performance. Havoline suite of products include passenger car engine oils, motorcycle oils and other ancillary products such as coolants, automatic transmission and brake fluids providing total engine protection.
About ONE Championship™
ONE Championship is the largest sports media property in Asian history. Headquartered in Singapore, the world's most exciting mixed martial arts organization hosts the largest sports entertainment events across Asia featuring the best Asian mixed martial artists and world champions, all signed to exclusive contracts, on the largest media broadcast in Asia. ONE Championship is broadcast to over 1 billion viewers across 118+ countries around the world with some of the largest global broadcasters, including FOX Sports, Setanta, MNC, Astro, Thairath TV, ABS-CBN, TV5, Physique TV, MYTV, HTV, Esporte Interativo and more.