Check for FWAs in your household products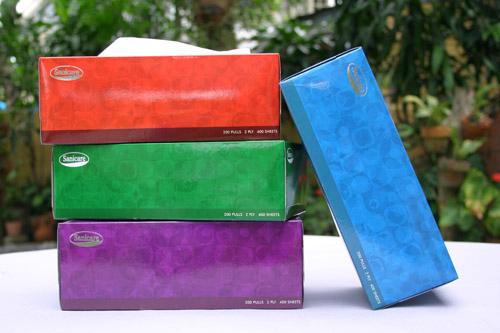 Sanitary Care Products Asia (SCPA) is a Filipino tissue brand that produces hygienic, high-quality tissue products made from 100% virgin pulp.
(Manila, Philippines, August 17, 2010) – As an increasing number and variety of consumer goods are being introduced to the market, shoppers should be more mindful of the product components of their selected brands to safeguard the health of their family members.
One overlooked ingredient in household brands are fluorescent whitening agents or FWAs, which are internationally known as optical brighteners. They produce a whitening effect on materials that come in contact with the agents. Commonly used in detergents and paper productions, FWAs are banned in some countries for their harmful effects on human skin.
South Korea's Health and Welfare Department has banned the use of FWAs in wet tissues in all its restaurants after several tests were conducted on the chemical agents, bacteria, and alien substances content of wet tissues used in 54 restaurants in Seoul.
In the Philippines, FWA-based household products are not restricted, but an environment-protecting body, responsible for crediting products as environment-friendly goods, has also recognized the dangers of FWAs. The group, Philippine Center for Environmental Protection and Sustainable Development, Inc. (PCEPSDI), prefers consumers to use FWA-free household products, including all kinds of tissue paper.
Make sure you and your family are using quality household products free from harmful chemicals like FWAs. To help you pick the right choice of brands, here are some guidelines in buying the safest brands in the market:
Check the label of the household item you're eyeing to buy. Although some brands enumerate vague ingredients for trade secrecy purposes, opting for those made from natural ingredients will be a good choice. You may also learn all safety information about your trusted brand or the new product you want to try by looking up the brand's material safety data sheet (MSDS). Some brands enable the public to view their MSDS information in their website. The MSDS lists all information pertaining to product safety.
Trust brands that don't use strong chemicals when it comes to soaps, detergents, tissue products, or other items that come in contact to skin.
Patronize local and organic products. Many natural cleaners and organic items are now available in the market. Using these products not only for safer use; it also empowers Filipino brands. Filipino brand Sanitary Care Products Asia (SCPA) manufactures tissue brands made from FWA-free virgin pulp, which ensures chemical-free, hygienic tissues. SCPA products include Sanicare, Femme, and Cheers.
Remove your notion of whiter being the better choice. May it be paper cups, tissue rolls, or coffee filters, whiter products aren't the safer choice as these might be bleached with chemicals like chlorine or FWAs.
Always be the first to know of the latest health news updates. News on melamine, lead, cocaine, and other substances in products we consume have been in headlines in the past years. And there's no other way to prevent coming in contact with products containing these harmful substances than keeping up to date. May it be on television, internet, or magazines, it's always good to know the latest health news for your safety and protection.
About Sanitary Care Products Asia
Sanitary Care Products Asia (SCPA) is a local manufacturer of hygienic tissue products made from 100% virgin pulp. Pulp fibers used in SCPA products come from reforestated trees from different parts of the world, making it an environment-friendly brand. SCPA's wide range of paper products includes bathroom tissue, facial tissue, table napkins, and paper towels. Over the years, its product line has expanded into various hygienic items such as cotton balls and cotton rolls. Established in 1996, SCPA continues to serve over 5000 stores with its innovative paper and hygienic products distributed nationwide. Today, SCPA has seven branches and 13 office satellites in different regions of the country.