DTSI Group facilitates Philippine expansion of US BPO Afni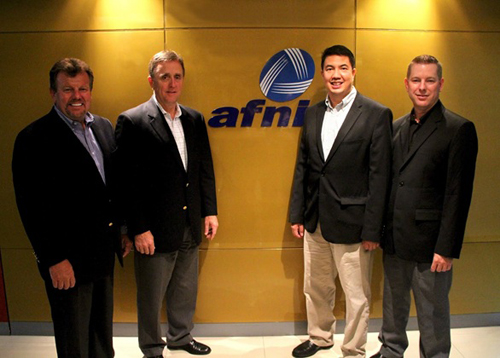 DTSI Group CEO Miguel Garcia and US-based BPO Afni executives inaugurated Afni's first facility in the Philippines. Pictured are (from left): Afni Chairman Bruce Griffin and Philippine Country Manager Ken Hahn; DTSI Group President and CEO Miguel Garcia; and Afni Philippines President E. Douglas Jones.
Award-winning systems integrator and facility developer DTSI Group and leading US-based BPO  company Afni unveiled a new Afni Philippines facility in Fort Legend Tower, Taguig City—one of the Philippines' premier business districts.
A principal enabler of the Philippine information technology and business process outsourcing (IT-BPO) industry, DTSI Group was appointed to help set up Afni's operations in the Philippines, including managing the firm's information technology infrastructure.
"This is an exciting time for the IT-BPO industry. Afni's move into the Philippines validates the country's stature as the leading IT-BPO and shared services destination in the world," said Miguel Garcia, DTSI Group president and CEO.
Founded 76 years ago in Bloomington, Illinois, Afni is a leading provider of contact center and receivables management solutions to major companies in the United States. The Philippine facility is the company's first office in Asia.
"Our expansion to the Philippines represents the transition of Afni as a strong and proven U.S. company to a truly global brand," said Doug Jones, president of Afni's Philippines operations. "The culture, work ethic, and focus on the customer experience in the Philippines are a perfect fit for the values that we have held close for the past 76 years."
Afni Chairman Bruce Griffin said the decision to open operations offshore in the Philippines is a good strategic move for the 76-year company.
"Adding global locations is an important strategy for us, and the desire of Filipinos to achieve the most and deliver the best is exactly what we were looking for.  We are simply delighted to open our pioneer Asia operations in Manila." added Griffin
DTSI Group is a full-service provider of game-changing technology, advanced communications systems and state-of-the-art facilities to over 60 IT-BPO and multinational firms and has enabled more than 300,000 call center seats in the Philippines.
About Afni
U.S. based Afni helps companies get more from the relationships they have with their customers. With a strong and successful 76-year history, the company's full customer lifecycle solutions include: acquisition and enrollment; care and loyalty; cross-sell and up-sell; and receivables and subrogation. Afni operates customer contact operations centers in the United States and the Philippines. Learn more at www.afni.com or email solutions@afni.com. For employment opportunities in Afni's Manila operations, visit http://manila.afnicareers.com.
About DTSI Group
The DTSI Group is a trusted partner of Fortune 1000 firms, delivering innovative communications services, state-of-the-art business facilities, and game-changing technology solutions that create value for our customers. Our Group has evolved over 15 years to capitalize on fast-changing communications infrastructure, innovations in facilities design and construction, and emerging technologies that provide new ways to build relationships with suppliers and customers.