Global Academy hailed champs at Philippine Culinary Cup
(Manila, Philippines, August 27, 2013) — When chefs get to taste victory after their hard work in the kitchen, expect them to savor the moment.
The award-winning chefs of Global Academy did just that after the academy emerged as the Overall Champion at the 2013 Philippine Culinary Cup (PCC). After a "heated" competition in the kitchen, Global Academy bagged several gold medals, including one for the Young Chefs Team Category for the fourth consecutive year, after their delicious and delectable dishes tickled the judges' taste buds.
Chefs' delights
Global Academy, a proving ground for aspiring chefs, pastry chefs and hospitality professionals, took home several awards, thanks to the tasteful ingenuity and creativity of its chefs.
"Our strong passion and discipline for the arts are what has helped us attain multiple medals, eventually gaining us the Overall Championship for this year's PCC. All our students won so this validates our commitment to the quality of training we impart through the academy," said Chef Benjamin Ledesma, Jr., co-founder, president and CFO of Global Academy.
Awarded the highest gold for the Filipino Cuisine category were Global Academy superior diploma program head Chef Vic Sanchez; head of purchasing Chef Joi So; and student and former steward of Global Academy Sebastian Sagun.
The Filipino Cuisine winning dishes consisted of Sinuglaw, calamansi and lemongrass, grilled pork belly with cucumber ensalada; Kalderetang Kambing, rack of goat stew in liver and tomato sauce as the main course; Garlic Sinangag (fried rice) with two kinds of longganisa (local sausage) and two kinds of duck eggs as the Starch, and Deconstructed Pinakbet with stuffed squash blossoms and sautéed vegetables in bagoong.
Pastry instructor Chef Kat Pascual received gold medals for Plated Desserts and the California Raisin special category. Pascual will represent the Philippines in the California Raisin Baking Competition in the International Baking Industry Exposition in Las Vegas, Nevada USA this October.
Chef Pascual's winning dishes were The Taste of Fall (a decadent chestnut cake), Goat's Cheese and Beet (a velvety goat's cheese cheesecake over beet, plum and port jelly, Japanese red plum carpaccio and crushed caramelized walnuts), This Season's (a layer of lemon cremeux and pistachio sponge on top of lavender powder with cucumber-honeydew sorbet spheres on a bed of lime salt), and Cylinder of Raisin (U.S. California Raisin and white chocolate pistachio bavarois wrapped in a reduction of vanilla bean gellan on a bed of Belgian flourless chocolate cake with orange-champagne sabayon, red wine impregnated apples, cluster of popcorn and pecans with raisin leather and micro celery).
Taking home a gold medal in the Sous Vide category were Global Academy business development manager Chef Brando Santos and Global Academy Makati branch head chef Gerd Gendrano. The category's title is French for "under vacuum", and refers to a method of cooking food in sealed, airtight bags immersed in water. This award highlights the academy's grasp of modern culinary techniques, which are offered in their new Superior Diploma course.
The Sous Vide winning dishes were a 50°C sous vide salmon fillet, potato confit with and crab fat emulsion, compressed fennel salad with squid ink sponge, and a 55°C Snake River Farms beef shoulder clod petite tenderloin with port wine sauce, corn-saffron puree, glazed vegetables, and a tart of truffled mushrooms fricasse.
Global Academy's Timog branch head chef Richard Tan also received a gold medal that evening for the Australian Lamb category. Chef Tan's winning dish was the trio of lamb composed of roasted lamb sausage, pressure-cooked lamb roulade, pan-seared lamb shoulder, served with roasted pumpkin, mixed baby vegetables and plum demi glace sauce.
In the Young Chefs category for culinary professionals, apprentices and students below 25 years old, Global Academy students Hans Simart and Seisma Lumbao showcased their talent and skills, coached by culinary arts program head Chef Jun Manalo.
Lumbao prepared what they call the Ulang Trio, comprised of yuzu ceviche, miso thermidor and the guanciale maki. Simart prepared the Tori Duo, which is shiitake-shiso stuffed and daikon-nori lollipop served with edamame cassoulet, sake vegetables and umeshu demiglace.
Satisfying discriminating palates
PCC judges scored in a point that ranges up to 100. Scores above 91 points for an entry entitles the team or individual to a gold medal. Scores between 81 and 90 receive a silver, while scores between 71 and 80 get to take home a bronze.
Global Academy's PCC silver medalists include Chef Gregory Villalon for Australian Lamb; Chef Michael Yap and Chef Brando Santos for The Butcher & The Chef; Chef Martha Ebro, Chef Jeremiah Go, Chef Brando Santos, and Chef Michael Yap for Dream Team; Chef Garie Quiambao, Chef Moy Magallanes, Chef Gerhard Gendrano, and Chef Gregory Villalon for Dream Team; student Melissa Ong of U.S. Poultry; student Alfredo Ragas, Jr. for Australian Beef; Chef Brando Santos for Local Fish and Seafood.
Bronze medalists include Chef Michael Yap for  U.S. Poultry; student Frances Domingo for Dress the Cake; Chef Terence Fereday for U.S. Pork; Chef Jun Manalo, Chef Richard Tan, and Jennylyn Arizabal Filipino Cuisine; Chef Angela Ventura and Joan Leslie Dela Cruz for High Tea.
Supporting Global Academy for the PCC were Lowtemp Corporation, Excellent, SMEG, Gourdo's, Birkenstock, DLA Naturals, Philippine Charity Sweepstakes Office, Global Pacific, Swiss Valley, Flechard, Conaprole, Beryl's, KLG Foodservice, Rubbermaid, Vollrath, Mind Mover Publishing House, Top Chef, Tramontina, Splenda, Gastro Chef, ESV International, Uniqlo, and San Miguel Brewery.
"I would like to thank all the chefs and students who participated this year and all our supporters. We'll aim to win big again next year," said Ledesma.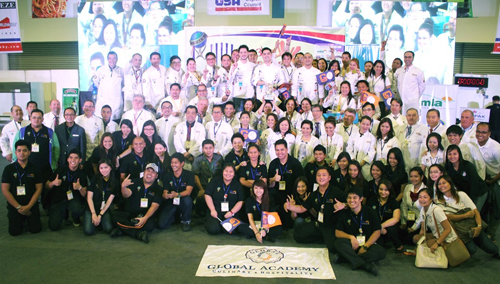 A flavorful grand slam. Awarded 20 medals, Global Academy is declared overall champion of the 2013 Philippine Culinary Cup (PCC).
About Global Academy
Global Academy is an award-winning culinary academy recognized for its world-class excellence and competitiveness. The academy offers professional courses for aspiring chefs, pastry chefs and hospitality professionals for affordable tuition fees. As the first culinary school in the Philippines recognized by the World Association of Chefs Societies (WACS), Global Academy is distinguished for its quality education and unmatched culinary standards. For more information, visit http://globalacademyph.com.