Global Academy prepares for the Philippine Culinary Cup (PCC)
(Manila, Philippines, July 29, 2013) — Global Academy is gearing up to showcase their culinary mastery in over 20 categories at the fourth annual Philippine Culinary Cup (PCC) from July 31 to August 3, 2013 at the SMX Convention Center.
Global Academy participants began formal practice sets on the second week of July, but according to Global Academy culinary program head Chef Jun Manalo, actual preparations began at the start of their classes. Already eyeing students for competitions throughout the duration of the culinary track, Manalo admits that it's not always about the best skill; it's about the attitude. "Anyone can learn how to cook, but not everyone has the discipline and attitude it takes to be a chef," said Manalo.
Participating in the Young Chefs category, in which Global Academy has consistently won gold every year since 2010, are culinary students Seisma Lumbao and Hans Simart. Both will be under the instruction of Chef Manalo. Young Chefs is a category open to professionals, apprentice chefs and students under the age of 25.
"I'm very happy to represent Global Academy in this prestigious event. I get such an adrenaline rush from preparing great food," said Lumbao, who will be graduating with a diploma in Professional Culinary Arts. She believes that her course with Global Academy has prepared her well for the competition. "The course has been very hands-on. When you make a mistake, you are made to understand and learn from them."
"Global Academy has great instructors. Within four months, you learn all the basics of mastering the culinary arts," said Simart, who is pursuing a Grand Diploma in Professional Culinary, Baking and Pastry Arts.
Chef Manalo has worked in the culinary industry for 13 years as a chef, instructor and consultant. He has worked in five-star hotels and restaurants, including Mandarin Oriental and Shangri-la Hotel. Manalo received highest gold for both his coaching at the 2010 PCC Young Chefs category, and the 2011 PCC Australian Lamb category. He also coached for the 2012 Food Hotel Asia (FHA) Culinary Challenge where they took home the bronze. "I'm very happy to be working with Global Academy. There is such great support in management because they are also chefs. Global Academy truly understands what it takes to be a world-class chef and provides for all our needs."
As the only continental competition endorsed by the World Association of Chefs Societies (WACS) in the Philippines, PCC provides an internationally-recognized platform for Filipino chefs to showcase their culinary expertise. WACS endorses premier culinary competitions worldwide, including the FHA Culinary Challenge in Singapore, HOFEX in Hong Kong, African Culinary Cup in South Africa, Istanbul National Gastronomy Festival in Turkey, among others, which are all judged by WACS approved judges. Founded in 1928 at the Sorbonne in Paris, WACS is an organization dedicated to promoting the highest culinary standards all over the world.
Global Academy earned several awards during the first PCC in 2010, including highest gold for the Young Chefs category, gold for the Fish/Seafood category, silver for Filipino Cuisine Challenge, and bronze for the Wedding Cake and the Meat/Poultry categories. In 2011, Global Academy received yet another gold for the Young Chefs category, the Australian Lamb category, and the Pork Category; silver for the US Beef category; and bronze for the Filipino Cuisine Team Challenge.
Last year, Global Academy also bagged numerous awards including gold for the Young Chefs category, silver for the Dress the Cake category, the Plated Dessert category, Poultry category, and the Filipino Cuisine category; and bronze awards for Australian Lamb Category and Dream Team categories.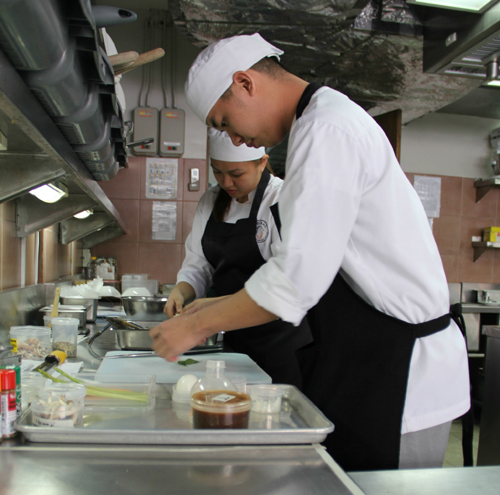 Global Academy students Seisma Lumbao and Hans Simart continue to master their culinary techniques for the upcoming Philippine Culinary Cup.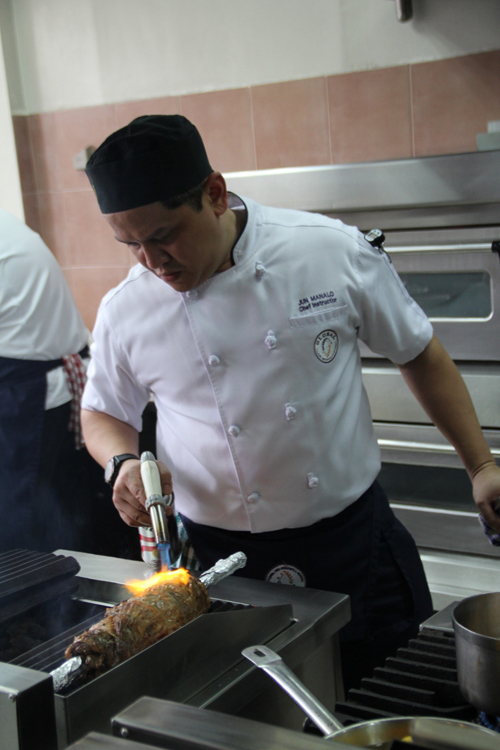 Global Academy culinary program head and chef instructor Jun Manalo demonstrates his culinary mastery during a practice set in preparation for the Philippine Culinary Cup.
About Global Academy
Global Academy is an award-winning culinary academy recognized for its world-class excellence and competitiveness. The academy offers professional courses for aspiring chefs, pastry chefs and hospitality professionals for affordable tuition fees. As the first culinary school in the Philippines recognized by the World Association of Chefs Societies (WACS), Global Academy is distinguished for its quality education and unmatched culinary standards. For more information, visit http://globalacademyph.com/.