TeamAsia holds training course on effective business communication
(Manila, Philippines)—TeamAsia founder and president Monette Iturralde-Hamlin led an effective business writing seminar for Verizon Communication Philippines at TeamAsia's brand new office wing in Northgate Cyberzone, Alabang, Muntinlupa City. A popular seminar facilitator, Iturralde-Hamlin delivers workshops on topics such as effective presentation skills and handling difficult people, among others.
The seminar, "Communicating with Impact: Effective Business Writing," prepares management teams to achieve organized and concise writing in email correspondence, complaint response, letters and memos. The full-day session helps executives and management teams brush up on grammar and style with easy-to-grasp exercises, on-the-spot mentoring, and group discussions that identify and address writing challenges.
According to Iturralde-Hamlin, "Effective communication is the most critical ingredient to business efficiency and success. Time is often wasted on guesswork, misunderstandings and remedying their consequences. To be an effective communicator, you must be able to anticipate your audience's needs."
"The most important thing I've learned in this workshop is to write to express, not to impress," said Mia Ann Calayag, a team lead at Verizon Communication Philippines. "[Iturralde-Hamlin] is very knowledgeable and approachable. She created a warm atmosphere throughout the training."
"[Iturralde-Hamlin] was engaging, articulate and knowledgeable on the matter," said affiliate engineer Mary Joyce Anne Napiza. "The most important thing I've learned in the workshop is that business writing doesn't need to be too formal all the time."
Delivering a range of public and in-house workshops and seminars, TeamAsia focuses on leveraging practical tools and insights that will enable today's professionals to attain immediate desired results. TeamAsia's training programs aim to provide meaningful change to organizations, and how they build relationships with internal members as well as customers.
An award-winning strategic marketing communications firm, TeamAsia's expertise covers public relations, creative design, editorial and research, web development, online marketing, and brand visibility consulting. Aside from being the founder and president of TeamAsia, Iturralde-Hamlin also serves as the president of the Philippine Association of Convention/Exhibition Organizers and Suppliers, Inc. (PACEOS) and represents the Meetings, Incentives Travel, Conventions Exhibitions/Events Services and Facilities (MICE) sector in the Philippine Tourism Promotions Board. She is a trustee and public affairs director of the League of Corporate Foundations.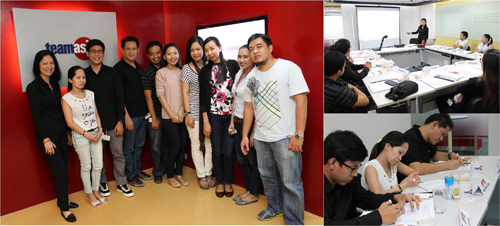 Verizon Communication Philippines participates in TeamAsia workshop on "Effective Business Writing" to enhance communication efficiency.
About TeamAsia
TeamAsia is an award-winning strategic marketing communications firm that creates, develops and sustains visibility for place, corporate, and personal brands through effective, meaningful and compelling integrated marketing communication strategies. Its core businesses include design services; public relations, editorial and research, copywriting, and SEO services; media relations; stakeholder relations; event management; social marketing and digital campaign management; and web development. The agency also aims to educate through workshops and seminars primarily related to its core communications businesses. Visit www.teamasia.com to learn more.