Head out to 4 Fingers this V-day!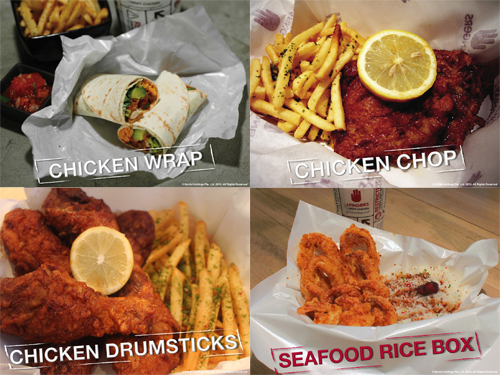 4 Fingers serves treats for every type of food lover!
(Manila, Philippines) – Whether you're dining out or staying at home this love month, there will always be a 4 Fingers meal that'll fit you and your partner's appetite.
Founded in Singapore in 2009, 4 Fingers opened its first store in the Philippines in December last year, in SM North EDSA. Today, Pinoys simply can't stop raving about its delicious crispy chicken that's coated with 4 Fingers' signature spicy or soy garlic sauce!
This Valentines Day, give your sweetheart some 4 Fingers treats to spice things up! Make your date extra special with these 4 Fingers meals for every type of food lover. Plus, read our tips on how to enjoy each 4 Fingers specialty on your date:
Crispy chicken wings. Love staying indoors during V-day? Take home some crispy chicken wings and have a movie marathon! Get 6-piece 4 Fingers Specialty Crispy Chicken with fries or purchase 8-, 12-, or 16-piece for an all-nighter.
Crispy chicken drumsticks. More meat, more crunch. Upsize your chicken drumettes and choose drumsticks. For a more filling eat, opt for the drumstick rice meal with iced tea.
Chicken burger. For a quick and filling snack, lunch, or dinner, pick the chicken burger. Going somewhere for V-day? This big sandwich is perfect for picnics or a short out-of-town trip.
Chicken chops. Order chicken chops for a bigger piece of that crispy and juicy 4 Fingers chicken to munch on. For a more romantic touch, take out some chicken chops and serve as the main course of your dinner date at home.
Calamari and shrimp. For seafood lovers, try 4 Fingers Calamari and Shrimp. Have them either as a snack or your main course. Their crispy coats go perfectly with the signature 4 Fingers soy garlic sauce.
Seafood rice box. A version of 4 Fingers Calamari and Shrimp, with rice – perfect for a complete meal. Try it for a casual date at 4 Fingers so you'll get the most out of its fresh seafood taste.
Chicken wrap. With fresh veggies, yummy chicken bits, and a hint of special sauce, the chicken wrap is perfect for adventurous couples who want a new and exciting food experience. Grab some chicken wraps before heading out to your picnic or make them your baon for an out of town trip.