LBC to serve more OFWs with relocated branch in Qatar
LBC Express, the leading courier service provider in the Philippines, bolsters its commitment to serving overseas Filipino workers (OFWs) in Qatar by opening a new branch in a new location.
The relocated branch, located in Fereej Bin Mahmoud in Doha, aims to offer the same level of customer service and commitment that has made LBC the courier of choice for Filipinos around the world. Like its branches and partners, the Qatar store will provide services that are clear, certain, and convenient.
The store in Qatar is part of a growing network of nine branches in the Middle East, which currently has 2.9 million OFWs, and has been growing nine percent each year. In Qatar alone, there are more than 200,000 OFWs.
The store was launched on February 27, and was attended by marketing brand manager to the Middle East Allan Bautista, vice president for Middle East Operations Barty Espino, chief strategy officer Fernando Araneta, Philippine Ambassador to Qatar Crescente Relacion, Qatar sponsor Mohammed Fakhroo, senior vice president of retail Rene E. Fuentes, and country manager Roldan Vergara.
"LBC's growth in the Middle East is one of the main thrusts of the organization to further extend its reach and international footprint," said Fuentes. "Aside from Qatar, our branches and partners stretch out through 20 countries worldwide."
These branches include Australia, Bahrain, Brunei, Canada, Germany, Guam, Hong Kong, Italy, Kuwait, Malaysia, the Philippines, Qatar, Saipan, Saudi Arabia, Singapore, South Korea, Spain, Taiwan, the United Arab Emirates, the United Kingdom, and the United States of America.
There are also plans of opening at least three more stores in key locations in the Middle East before the end of the year.
Qatar's presence strengthens LBC's goals of serving as the link between the so-called "modern day hero" to his family back home. LBC's expansion in the Middle East means thousands of OFWs in Qatar can send money and packages to their loved ones in the Philippines.
Wherever the customer is, LBC has courier and cargo services in sea and air freight options, and bills payment and money remittance services through its partners: Lulu Exchange, Transfast – Al Dar Exchange, Al Fardan, and many more. LBC's more than 20 store agent locations in the country also offer balikbayan boxes and a 24/7 customer hotline that can schedule pickups.
Soon, the Qatar branch will have Express Air, or next business day deliveries, and acceptance of LBC balikbayan drums.
The services are available with LBC's Plus Card, an upcoming loyalty and reward program where customers can enjoy offers, discounts, and other promos. It also works as a customer card, where the customer's information is stored for future transactions.
"OFWs sacrifice a lot by working abroad," said Fuentes. "We'd like to be the modern day hero's trusted ally in making sure their relatives back home receive their packages. Our new location in Qatar means we can serve more heroes. At LBC, we move more than just packages. We move love."
For more information on LBC, please visit http://www.lbcexpress.com; or call the following hotlines: 8585-999 (Metro Manila), 1-800-10-8585-999 (Provincial).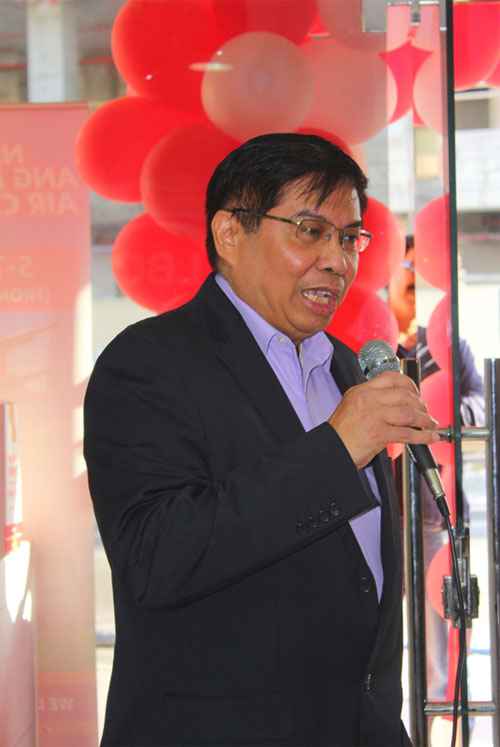 Philippine Ambassador to Qatar Crescente Relacion leading the ribbon cutting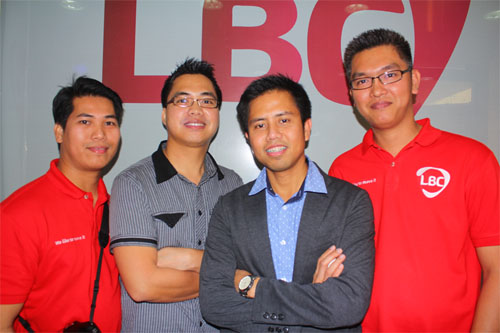 LBC Doha team (from left): Fred Arce, King Abanto, country manager Roldan Vergara, and Ver Velasquez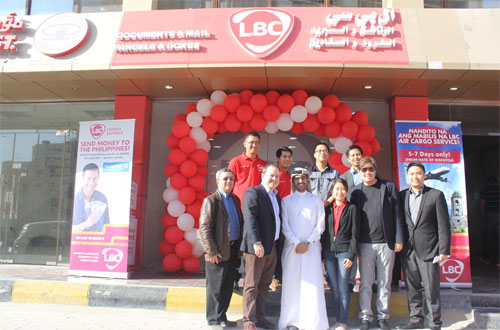 LBC executives and the Doha team, together with Qatar sponsor, Mr. Mohammed Fakhroo
About LBC Express
LBC Express, Inc. was founded in the 1950's as a brokerage and air cargo agent. Now the largest Express Courier, Cargo, and Money Remittance Service Company in the Philippines, LBC also provides its services in over 18 countries worldwide.  For more than 60 years, LBC has been moving lives, business and communities for the global Filipino, providing hassle-free delivery via air, land, and sea– from cash remittances to payment solutions, from simple parcels and packages to container loads for corporate logistics. We like to move it.