Ronda Pilipinas 2015 finishes fifth annual race Mar 31, 2015
Winner Santy Barnachea wins more than P1 million in prizes
Ronda Pilipinas held its fifth annual bicycle race last February, with Pangasinan's Santy Barnachea of Navy-Standard Insurance taking home the P1 million prize.
Ronda Pilipinas, presented by LBC, is an annual bicycle race and platform for Filipino cyclists to vie for the honor of becoming the country's fastest rider. This massive undertaking took cyclists from Luzon to Visayas. Riders zoomed past historic landmarks, expansive highways, and even the occasional festival, highlighting the natural beauty of the Philippines.
"Ronda Pilipinas has two goals," said Moe Chulani, the race's executive director. "It's to give the opportunity for talented racers to show off their skills and showcase the natural beauty of the country. And what better way to see it than by riding a bike?"
For the 2015 Ronda Pilipinas, the organizing committee pulled out all the stops and developed new routes in cities that tested the skills of even the most experienced rider, with the hope of finding a rider that can compete in the Olympics and win a gold medal. Unlike last year, all 300 participants were Filipinos in order to give a chance to all local riders.
This year, close to 300 men from all over the country participated in the 2,091 kilometer race, where their will, speed, and stamina were tested to be named the champion in the country's premier cycling race series.
The race began on February 11 when the participants raced from the Negros Oriental Provincial Capitol in Dumaguete City to Sipalay City. This was followed by a route from Bacolod City Plaza and Araneta Avenue to the Bacolod City Government Center, concluding at the Negros Occidental Capital and back via Cadiz.
For the qualifying round in Luzon, the race started at the Tarlac Provincial Capitol to the Monasterio de Tarlac Circuit, then the Rizal Province Circuit and then Antipolo City.
The championship round began on February 22 with 100 cyclists riding a 60 kilometer race from Paseo Greenfield Criterium to Paseo Greenfield in Sta. Rosa, Laguna. This was followed by a 120 kilometer ride from Calamba City Plaza to Atimonan, Quezon.
For Ronda Pilipinas' last week, riders raced from the Quezon Provincial Capitol to the Rizal Provincial Capitol in Antipolo City. A new route began at the Bulacan Provincial Capitol to the Tarlac Provincial Capitol, then to the Dagupan City Plaza. Another route began at the Dagupan City Hall, then to Harrison Avenue in Baguio City, and to Sto. Tomas in Tuba, Benguet. It wrapped at the Baguio City Criterium, officially ending at Harrison Avenue.
At the awarding in Baguio, Barnachea's aggregate time was 24:02:44, marking his second win at Ronda Pilipinas after winning the first race in 2011. He is the first rider to win more than once. Barnachea was followed by George Oconer, Jr. of PSC-PhilCycling, who clocked in at 24:09.41 and won P500,000. Jan Paul Morales, a Navy teammate, took third, with a time of 24:10.22 and a prize of P250,000.
Joining them for the top 10 are Navy's Lloyd Lucien Reynante (24:14.45), ZDK's Edgar Nieto (24:15.10), Army's Irish Valenzuela (24:16.56), 7-Eleven's Baler Ravina (24:17.24), Army's Cris Joven (24:18.18) and Navy's El Joshua Carino (24:23.04).
LBC, the leading courier service provider in the Philippines, has supported Ronda Pilipinas since its inception in 2011. The courier provider's nationwide network of branches and partners have made it the only delivery service capable of supporting a race of this scale.
LBC's expertise in cargo means being able to smoothly transport and support the logistics of equipment and racers via air, sea, and land. Compared to the Tour de France, Ronda Pilipinas is more challenging because the Philippines is an archipelago. Despite the challenge of 14 different legs that took the racers and organizers around Luzon and Visayas, LBC's 60 years of experience allowed the race to be pulled off successfully.
"Ronda Pilipinas and LBC share the same values so we're happy to support the race," said Chulani. "Ronda Pilipinas highlights strength, swiftness, and the determination to get to their destination, and LBC believes in that as well, in how we move lives, businesses, communities, the nation, and the world."
To find out more about Ronda Pilipinas, presented by LBC, please visit www.facebook.com/RondaPilipinas.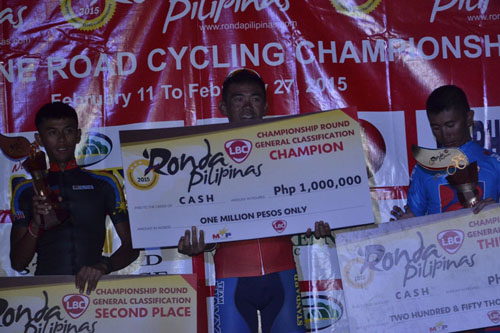 Pangasinan's Santy Barnachea of Navy-Standard Insurance wins the top prize of P1 million in the recently-concluded Ronda Pilipinas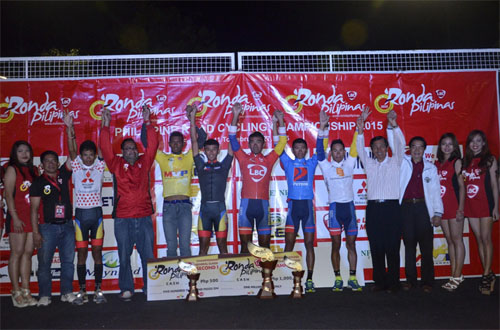 Winners Santy Barnachea, George Oconer, Jr. of PSC-PhilCycling, and Jan Paul Morales, a Navy teammate
About LBC Express
LBC Express, Inc. was founded in the 1950's as a brokerage and air cargo agent. Now the largest Express Courier, Cargo, and Money Remittance Service Company in the Philippines, LBC also provides its services in over 18 countries worldwide.  For more than 60 years, LBC has been moving lives, business and communities for the global Filipino, providing hassle-free delivery via air, land, and sea– from cash remittances to payment solutions, from simple parcels and packages to container loads for corporate logistics. We like to move it.