National University educates future leaders, supports SM scholars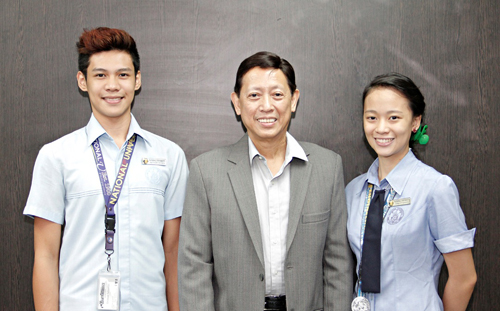 (Manila, Philippines, July 30, 2013) — The National University, which has been in existence for 113 years, continues to offer relevant and innovative academic programs and co-curricular activities from basic education to undergraduate courses to meet local, national, and global needs.  It has produced two Philippine presidents, Carlos P. Garcia and Fidel V. Ramos, and a National Artist for Literature, Nestor Vicente Gonzalez. Today, National-U strongly commits itself to educate its students by encouraging them to be game-changers in their respective fields.
According to National-U president Teodoro Jhocson-Ocampo, the university believes that every student, no matter their financial status, deserves the right to holistic learning. In 2009, NU began supporting the SM Foundation by accommodating about 50 of its scholars. National-U has since been a strong supporter and partner of the SM College Scholarship Program in providing bright underprivileged students with quality college education. For academic year 2013-2014, National-U is supporting 227 SM scholars.
"We hone our students, the SM scholars included, holistically — their values, their emotions, and people skills — because no matter how scholarly you are, if you are not able to deal well with your fellow students, you will never be able to convey what you know. So it's basically communication skills and being able to interrelate with other people. To us, values are very important," says Ocampo.
Fourth-year civil engineering student and SM scholar Marielle Nicole Dizon knows that she needs to live by the five characteristics that a National-U student should possess: industrious, compassionate, respectful, resilient, and trustworthy.
"My outlook in life changed when I became a scholar in National-U," says Dizon. "Now, my mission is to pay it forward." Dizon has recently been voted by her schoolmates as the Student Council president. She vows to serve her fellow National-U students and serve as a role model to them.
Although one of the top students in her high school, Dizon, the daughter of a policeman and a homemaker, faced a difficult time after realizing that her parents could not afford to send her to college because of their financial limitations. After learning about the SM College Scholarship Program, her father encouraged her to apply and take up the qualifying exam.
"I am proud to be an SM scholar in National-U. Even if it is very challenging to juggle my many tasks as a student leader and a scholar, my mentors at SM Foundation, Inc. and my professors in the National-U have continuously helped and guided me," Dizon says.
Another SM scholar James Bryan Deang, a third-year education student, is active in different school organizations and is more than happy to serve. "Because of SM Foundation, Inc., I was able to use my knowledge and skills to its fullest potential. On the other hand, National-U honed my personality as a whole," he says.
"At a very young age, I had to face a lot of challenges. And I know I'll get through them because I have my parents, professors and the National-U family to support me," Deang adds. "I am studying hard so that someday, I can give back to them."
According to Ocampo, the National-U administration and faculty have always been impressed with SM scholars. "They are really good. They have a different mindset and they are focused on their studies," he says. "We want them to influence their classmates and raise the bar high in terms of academic performance, and even in extracurricular activities."
The SM College Scholarship Program is the flagship program of the SM Foundation, Inc., which is celebrating its 30th anniversary this year. The program has 1,500 college scholars at any time nationwide.
Ocampo says, "As the father of this school, I want to see my kids as achievers in the outside world and become successful."
About SM Foundation, Inc.
SM Foundation, Inc. is the socio-civic arm of the SM Group of Companies through which it helps the less fortunate in the communities it serves. The Foundation has four areas of advocacy: education through scholarship programs and donation of school buildings; health through medical missions, mobile clinics, and establishment of wellness and health centers; livelihood and community development; and the conduct of relief operations to victims of calamities. The Foundation intends to serve more communities as SM builds more malls around the country.