SM Foundation supports LCF Corporate Social Responsibility Expo 2013
(Manila, Philippines, August 1, 2013) — SM Foundation, the socio-civic arm of the SM Group of Companies, participated in the League of Corporate Foundations' annual Corporate Social Responsibility (CSR) Expo.
Staying true to its principle of "People Helping People", SM Foundation is a proud member of LCF, a network of corporate and business foundations geared toward promoting and enhancing its members' strategic practices and understanding of corporate social responsibility. Through its Education arm, the foundation has provided bright underprivileged students with the opportunity to continue their college education. The SM College Scholarship Program, now on its 20th year, is one of the many CSR initiatives of the SM Group of Companies.
"LCF has been pioneering the CSR practice even back in 1990s with SM Foundation, Inc. as one of its earliest members," says Linda Atayde, executive director, SMFI-Education. "We will continue to support the organization by being an advocate in providing more opportunities for our less fortunate brothers and sisters."
This year, the CSR Expo, titled 'Isang Bansa. Isang Bukas. Sabay sa Pag-unlad', focused on inclusive growth by highlighting the role of the business sector in sharing economic progress with every Filipino. A roster of local and international CSR leaders also took part in discussing the practices being inside the country and globally. Breakout sessions for the organization's five-program committees were also highlighted, namely Arts and Culture, Environment, Enterprise Development, Health, and Education.
According to Atayde, SM Foundation, Inc. founder Henry Sy, Sr. believes that education is an essential pathway toward economic growth. "As the flagship program of the SM Foundation, the SM College Scholarship Program holds firm in its belief that by giving bright, less fortunate youths an opportunity to obtain higher education, they in turn help grow the economy by helping their families out of poverty," she says.
In 2001, LCF established its first-ever CSR Expo in response to a presidential proclamation declaring the first week of July as National CSR week. Since then, the expo had become a yearly avenue in bringing the country's business sector together to discuss the latest trends, model and practices in CSR.
"This year's theme speaks to our program well because we believe that education plays a crucial role in creating inclusive and sustainable development," says Atayde. "By giving our less fortunate brothers and sisters a chance for higher education, we are leveling the playing field and opening a lot more doors for more people. In the long run, we are also creating a more competent and dedicated workforce that will further help our economy."
The SM College Scholarship program supports an estimated 1,300 college scholars at any time nationwide. This year, a total of 225 scholars graduated from the program which produced four summa cum laudes, 18 magna cum laudes, 48 cum laudes, and 21 academic distinction awardees.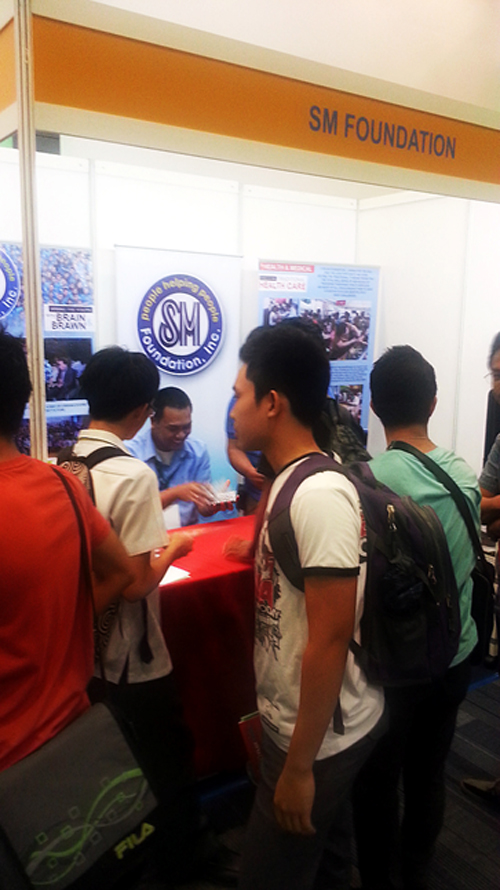 The SM Foundation, Inc. booth during the 12th League of Corporate Foundations' Corporate Social Responsibility (LCF CSR) Expo.
About SM Foundation, Inc.
SM Foundation is the socio-civic arm of the SM Group of Companies through which it helps the less fortunate in the communities it serves. The Foundation has four areas of advocacy: education through scholarship programs and donation of school buildings; health through medical missions, mobile clinics, and establishment of wellness and health centers; livelihood and community development; and the conduct of relief operations to victims of calamities. The Foundation intends to serve more communities as SM builds more malls around the country.