PHL should not be complacent, say IT-BPO experts
(Manila, Philippines, December 20, 2012) — In an exclusive CEO briefing by the Business Processing Association of the Philippines (BPAP) and Outsource2Philippines (O2P), industry experts said that the Philippines should not be complacent despite its impressive rank in the global IT-BPO industry. The Philippines is currently the world's number one provider of voice services and the second-most–preferred destination for non-voice, complex services.
Entitled "Great Expectations: Strengthening Investor Confidence and IT-BPO Growth," the briefing was attended by over 90 delegates, including key industry players, government representatives from the Department of Trade and Industry and Philippine Export Zone Authority, outsourcing investors, and C-level executives.
Gigi Virata, senior executive director of BPAP, presented the results of BPAP and O2P's survey on the industry's perspective in terms of setting up and expanding operations in the country. Atty. Jose Jesus Disini, Jr., managing partner of Disini & Disini Law Office, and Guillermo Luz, Private Sector Co-Chairman of the National Competitiveness Council, served as resource persons.
According to the BPAP-O2P survey, the Data Privacy Act was viewed favorably by the IT-BPO industry despite its controversial last-minute provisions. Disini discussed the penal provisions as well as the exclusions of the privacy act. He said that before disclosure of information, data subjects have the right to be informed and give their consent. The industry will benefit from provisions covering system and data protection, device security, and penalties for computer-related offenses, theft, and fraud. The law will also contribute to a sustainable, healthy business environment and reassure global clients.
Luz gave an overview of competitiveness reports that serve as diagnostic tools to track where the Philippines is vis-à-vis its neighbors. According to the Global Competitiveness Report 2012 by the World Economic Forum, red tape is still present in different processes, from construction permits to starting and setting up businesses. On the issue of "brain drain", Luz said, "We are competing for our own people. We are offering those jobs with great pay for our people. Hopefully, we can achieve that here (in the Philippines)."
Another growing concern is the appreciation of the peso. Survey respondents also noted the need to highlight the Philippines' marketability and capabilities. They also viewed the Philippines as a less risky investment destination than China and India, its closest competitors.
In a panel discussion moderated by Jeff Williams, head of Medical Management Operations of MediCall Philippines Inc., incentives, policy, regulatory developments, talent, global rank, and the Philippine IT-BPO investment climate were key issues.
"India and Philippines are considered to be 'mature.' But there are other countries looking into dislodging the Philippines," said Williams. "We need to make sure we are doing the right thing, be aware that we cannot afford to be complacent, work even extra harder, get the right message across, and put proper things into place."
Panelists included Raymond Lacdao, Executive Director, BPAP; Carlo José, President & Head of GSC Operations-Philippines, HSBC; James Donovan, Co-founder, President and CEO, ADEC Group; Luis Vistan, Vice President, Head of Corporate Treasury Sales, Deutsche Bank; Chris Moriarty, Managing Director and CEO, Flat Planet; Mary Harriet Abordo, Deputy Director General, Philippine Economic Zone Authority; and Cristino Panlilio, Undersecretary for Trade and Investment Promotions, Department of Trade and Industry.
Doing Business 2013, a study by World Bank and the International Finance Corporation (IFC), showed that the Philippines ranked 138 out of 185 economies surveyed, down from its global rank of 136 in 2012 and 134 in 2011. Influential private-sector analyst Gartner says that the Philippines may be part of the sourcing strategy for contact centers, but raised concern over rising costs, data privacy, and security.
While panelists expressed the need for a more investor-friendly environment, they agreed that investors should also be willing to work with industry associations, the academe, and the government to maximize the potential of the IT-BPO industry.
"In order to achieve our industry Road Map 2016 goals of 1.3 million direct jobs and US$25 billion in revenues, addressing the talent supply gap through talent development programs must be taken seriously to meet the industry's growing demands," Virata said.
Reiterating the industry's talent development initiatives, Lacdao said, "We are helping develop talent in Next Wave Cities™ as part of our IT-BPO growth strategy and assisting investors in deciding on where to locate outside Metro Manila."
Donovan shared another view on talent development. "Why aren't we crafting solutions to compete with multinationals that set up a business here in the country and use Philippine talent to create solutions for their customers? Why aren't we taking a proactive step in going up the value chain in BPO?" According to Donovan, the Philippine IT-BPO industry should "come up with the finished product, craft solutions, develop IT-manpower, and processed capability to effectively deliver solutions to our customers."
Asked about the country's decline in the"Doing Business" global ranking, and what should be done, Trade Undersecretary Panlilio said, "Why don't we provide a list of districts and award the most business and investor-friendly so that they may serve as a model to local government units?"
Everyone has a role in sending the right message about the Philippine IT-BPO industry, says Dan Reyes, BPAP vice chairman. "The stage is set but we need to be very careful to not become complacent."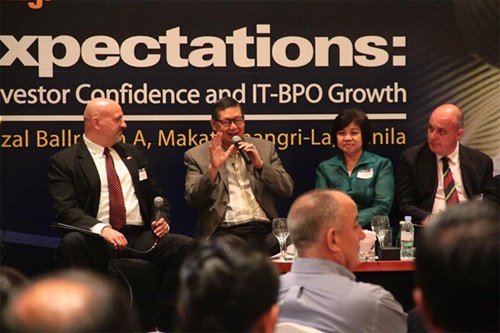 Trade Undersecretary Cristino Panlilio (second from left) gives the government perspective on the country's current investment climate during the BPAP-O2P CEO Briefing. To his left is moderator Jeff Williams, Co-founder and President of MediCall. Also providing their insights are panelists Harriet Abordo, Deputy Director General of Philippine Economic Zone Authority (PEZA), and Chris Moriarty, Managing Director and CEO of Flat Planet.
About the Business Processing Association of the Philippines
BPAP is the cross-sectoral association for the IT-BPO and GIC (global in-house center) industry in the Philippines. BPAP serves as the one-stop information and advocacy gateway for the industry. With approximately 300 industry and support-industry members, including five associations—the Animation Council of the Philippines, Contact Center Association of the Philippines, Game Developers Association of the Philippines, Healthcare Information Management Outsourcing Association of the Philippines, and Philippine Software Industry Association—BPAP plays a pivotal role in sustaining rapid growth of the IT-BPO and GIC industry by working to ensure an enduring supply of high-quality labor, supporting service innovation, and providing country visibility.
BPAP assists investors in setting up operations easily and quickly in the Philippines. Relevant research, introductions to key government and industry officials, and a series of briefings at each step of the investment process ensure a seamless development process. On-going support is provided through a wide variety of initiatives, including programs for HR development, business development, and on-going knowledge sharing and networking opportunities.
About Outsource2Philippines
Outsource2Philippines, Inc. (O2P) provides advisory services, research, and project management services to companies that outsource IT and business processes, develop and manage offshore shared services facilities, and supply infrastructure and services to the IT-BPO and GIC industry in the Philippines. It works closely with industry associations, government agencies, and client firms to gather industry intelligence, develop best management practices, and implement industry projects.
O2P provides a cost-effective, timely mechanism for companies to receive professional support in analyzing the suitability of outsourcing selected operations to the Philippines, and in implementing outsourcing programs. Together with the Everest Group, it played a role in the development of the Philippine IT-BPO Road Map 2016.
O2P's experience in identifying highly professional and reliable Philippine IT-BPO vendors ensures their compliance with client requirements that will match the local vendor capability, and the provision of on-site managerial capability.