The sky's the limit for women pilots
Alpha Aviation Group provides world-class flying skills to women pilots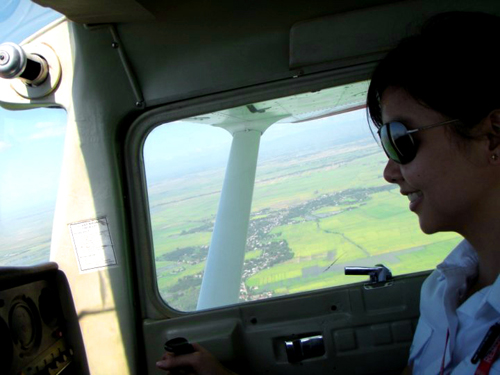 Manila, Philippines — If you think that the aviation industry is a man's world, think again. History will tell us that women have also been flying high as men do, literally. Women's passion, determination, and can-do attitude have propelled them to reach their dreams to see the world from a different perspective.
American Lillian Todd was the first woman to build and design an aircraft in 1906. French pilots Therese Peltier became the first woman to pilot an aircraft in 1908 while Raymonde de Laroche was the first woman in the world to receive a pilot license. Indeed, the sky's the limit for women in the aviation industry.
Industry reports indicate the Asia-Pacific aviation industry is set to take off in the next 20 years due to the rise of low-cost carriers (LCC) throughout the world, and the demand for pilots is expected to soar to approximately 183,000 in the region.
The single-aisle airplanes, the Airbus A320, is projected to account for majority of trainings and travels, with 34 percent of all deliveries to originate from the Asia-Pacific region according to Alpha Aviation Group Philippines chief operating officer Kunal Sharma. "With the optimistic outlook and growth, there is a lot of room for everyone aspiring to be in aviation and gender is not even a question. What's important is he or she does the job well and airline operations are running smoothly," said Sharma.
A woman in a man's world? Maria Anna Karenina Zosa, an Airbus A320 First Officer Transition training graduate from Alpha Aviation Group Philippines, shares her thoughts on how women can fly high with careers in the aviation industry. Zosa, who is now a limited first officer (LFO), has been using the skills she acquired from her training at AAG Philippines, the leading training academy in the country with a comprehensive suite of airline-standard training programs.
"I don't think that gender is an issue in achieving success as a pilot," said Zosa. "Airplanes and airports have always been a big part of my life because my father is also a pilot. I can't imagine not being a part of the aviation industry. Knowing that I'm already part of this industry and a company that gets people to places safely is the best part of my career."
'Flying is an acquired comfort zone.'
When Zosa was still a student, she found training to be a shock at first. Know that being in the cockpit thousands of miles up in the air while minding safety measures are great responsibilities that you have to handle.
"I was trained in a Cessna 152 and a Cessna 172 plane, and I didn't have that much experience yet so it was a big jump for me," Zosa said. She expressed that her training was not a breeze so she gives credit to her instructors at AAG Philippines for extending their patience during times she found lessons difficult to understand. "If you really love what you're doing, you can overcome all challenges."
Those who hate a routine job will enjoy being a pilot as you adjust to new teammates and crew members every time. "I had to adjust to everyone I fly with since I rarely get to be with the same crew every day," Zosa said. "During training at AAG, I was shocked at how fast-paced everything was. Everything was a challenge since many aspects of a flight are not predictable. But I trusted in the skills of my instructors so I knew I was in good hands."
Soaring to sky-high success
As with any career, you have to gain experience and expertise to be called a master. In the airline industry, mastery is to be the captain of the flight.
Zosa started training in AAG Philippines in February 2009 and graduated in November of 2011. After completing training in the academy, she underwent training with a local airline company. "At first, we flew as observers of flights for at least 30 sectors so we could get an overview of how a flight operates.  Then we started our supervised line flying (SLF)," explained Zosa.
Stage 1 was to fly with designated check pilots (DCPs) for at least five sectors. "If you were satisfactory and met the criteria, you go on to Stage 2 and fly with line instructor pilots or DCPs for at least 30 sectors before you are recommended for a final check. After that, you can be released for line flying," she said.
As an LFO, Zosa assists the captain in all aspects of a flight, including pre-flight preparations and paperwork, to ensure the safety of everyone onboard the aircraft. "Looking presentable is essential," she said. "Once I get to the airport or office, I report to my captain and I make sure all things necessary for the flight are prepared. We then go to the aircraft and do the flight. Once we get back to base, I make sure all reports and paperworks are done."
According to Zosa, she hopes to master everything that needs to be mastered in flying an aircraft. "Once I've accomplished these skills and the amount of flying hours, I'll apply and become a captain," she said.
Zosa, who jumpstarted her dream to fly high when she decided to train under Alpha Aviation Group Philippines, is now living that dream and more.
About the Alpha Aviation Group
Alpha Aviation Group (AAG) Philippines is one of the three academies of Alpha Aviation Group, a global group of companies providing specialist training solutions to the international commercial aviation community. An Approved Training Organization (ATO) and a certified Type Rating Training Organization (TRTO) for the Airbus A320, AAG Philippines is the leading training academy in the Philippines capable of providing a comprehensive suite of airline-standard training programs.