SM Foundation holds first 3K fun run for scholars
'OM-Galing' SM scholars officially welcomed
(Manila, Philippines, August 2, 2013) — Celebrating 20 years of providing bright underprivileged students with a chance for higher education, the SM College Scholarship Program welcomed its newest batch of scholars by holding its first-ever fun run.
Entitled 'O-M-General Assembly Fun Run', the event brought together alumni and scholars of the SM College Scholarship Program. Around 700 participants joined the three-kilometer run at the SM Mall of Asia grounds.
Mike Shem Mortel, a computer science student from the National University, was the first to cross the finish line. He finished the 3-km course in 14 minutes flat. Mortel, the middle child of a security guard and a vendor, won eight movie tickets from SM Cinemas. Second placer John Olly Canuel of Philippine Normal University and third placer Jaymond De Chavez of University of Batangas received six and four cinema passes, respectively. The other finishers in the top 10 each won two tickets each.
The fun run also served as the annual general assembly of the scholars, which opened with the distribution of BDO Cash Cards to the 340 SM scholars for academic year 2013-2014.
"You are here because you are qualified and you are deserving," says Harley Sy, president of SM Investments Corp. "I would like you all to take advantage of opportunities that are presented to you, this scholarship being one of them. Through the SM College Scholarship Program, we are equipping you with education that can help you compete in the real world."
He adds, "Just remember: every time there is a problem, there is also an opportunity. Try to look at the positive side of things, it will make your life easier. Accept the challenge and do well."
During the general assembly, the SM scholars were also treated to a special movie screening. According to Linda Atayde, SM Foundation, Inc. executive director for Education, the 20-year-old scholarship program aims to change more lives by expanding its reach to even more communities in the Philippines.
"We have never stopped growing," says Atayde. "When the foundation started the SM College Scholarship Program, there were only less than a hundred scholars onboard. Now, we have at least 1,300 studying at any given time. We have truly grown."
SM Foundation, Inc., the socio-civic arm of the SM Group of Companies, is also celebrating 30 years of service to the less fortunate members of the communities where SM department stores and supermalls operate. The SM College Scholarship Program is the foundation's flagship program for education.
"We will continue to support our scholars, during their studies and even after," says Atayde. Addressing the scholars, she quotes SM Foundation Inc's founder Henry Sy, Sr. who said that "Success is not just good luck. It is a combination of hard work, good credit standing, opportunity, readiness and time. When opportunity comes, you have to be ready to embrace it otherwise it goes to somebody else. Also, success can not last if you do not take care of it."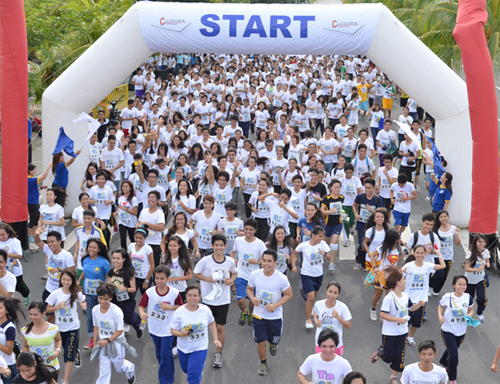 O-M-Galing! More than 700 scholars and alumni of the SM Foundation Inc.'s College Scholarship Program participated in the first-ever OMG Fun Run last July at the SMX grounds. The OMG Fun Run was followed by a general assembly wherein SM scholars gathered to celebrate SM College Scholarship Program's 20 years of providing quality education to bright underprivileged students.
About SM Foundation, Inc.
SM Foundation is the socio-civic arm of the SM Group of Companies through which it helps the less fortunate in the communities it serves. The Foundation has four areas of advocacy: education through scholarship programs and donation of school buildings; health through medical missions, mobile clinics, and establishment of wellness and health centers; livelihood and community development; and the conduct of relief operations to victims of calamities. The Foundation intends to serve more communities as SM builds more malls around the country.