SM Foundation, Inc. announces screening schedule for scholarship applicants
(Manila, Philippines, January 24, 2014) — SM Foundation, Inc., the socio-civic arm of the SM Group of Companies, has announced the schedule of screening for applicants of its scholarship program.
The SM College Scholarship Program aims to provide quality education to bright underprivileged students. Last year, 225 scholars under the program graduated, 89 of which finished with academic distinction.
Members of the SM Foundation, Inc. will be in different SM malls to interview and assess applicants. They will be in SM City Lipa (Jan. 23), SM City Davao (Jan. 24), SM City Taytay and Baguio (Jan. 27), SM City Cagayan de Oro (Jan. 28), SM City Cebu (Jan. 31), SM City Baliuag (Feb. 3), SM City Marilao and General Santos (Feb. 5), SM City Iloilo and Tarlac (Feb. 10), SM City Bacolod and Olongapo (Feb. 12), SM City Cauayan, Isabela, and Lucena (Feb. 17), SM City Sta. Rosa (Feb. 20),  SM City San Pablo (Feb. 21), SM City Pampanga and Tacloban (Feb. 24), SM City Clark (Feb. 26), SM City Rosales (Feb. 26), SM malls in Metro Manila (March 18).
Applicants are advised to be at the venue by 10 a.m. wearing complete school uniform. They need to bring an ID, ballpen, pencil, photocopy of their 4th year card with general average of at least 88 in the 2nd or third grading  period and certificate of non-filing of income or income tax return (ITR) of parents, with income not exceeding P150,000 per year.
"We've always believed in the potential of the Filipino youth. Through the scholarship, we hope to provide them with a means to hone that potential through proper education," said Linda Atayde, Executive Director for Education at SM Foundation, Inc.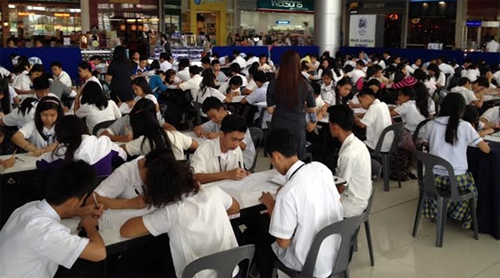 SM Foundation, Inc. has started screening applicants for next school year's batch of scholars. The SM College Scholarship Program provides bright underprivileged students with a chance for a college education
For more information, visit www.sm-foundation.org.
About SM Foundation
SM Foundation is the socio-civic arm of the SM Group of Companies through which it helps the less fortunate in the communities it serves. The Foundation has four areas of advocacy: education through scholarship programs and donation of school buildings; health through medical missions, mobile clinics, and establishment of wellness and health centers; livelihood and community development; and the conduct of relief operations to victims of calamities. The Foundation intends to serve more communities as SM builds more malls around the country.