SM scholar chosen as delegate to Asian Youth Forum 2013
(Manila, Philippines, October 30, 2013) — SM scholar and University of Perpetual Help System-Biñan student Mark Abinsay was chosen as one of only four Filipino delegates to the Asian Youth Forum 2013 to be held in December in the University of the Philippines Cebu.
The forum will bring together college and university students and young people from all over the Asian region to an international convention to meet with other youth and educators and provide them a venue where they could share their ideas, views and knowledge on culture, language, leadership, social and global issues especially those affecting the youth. In time for the celebration of the International Human Rights Day on December 10, the forum's theme is "International Human Rights: The Asian Youth Speaks."
"This will be a great opportunity to overcome diversity of culture towards uplifting the youth in Asia. I am privileged and excited to be part of it," says Mark Abinsay, a graduating education student, majoring in English. "We are preparing presentations to introduce our country's rich history and culture and researching on the current situation of our country. I am also reading about the participating countries for me to easily establish rapport with them."
Model student
As a student, Mark always excelled in extra-curricular activities. In high school, he was a student leader, an Eagle scout and a news anchor. All these he did while also working hard to maintain his academic standing.
But shortly after graduating from high school, Mark had to make a choice between being a state scholar or an SM scholar. He chose the latter and was content with his decision. "I was extremely happy and thankful when I received a phone call from the SM Foundation, Inc. By qualifying in the SM College Scholarship Program, I never had to worry about my college education," says Mark.
Not wanting to disappoint the people who believed in him, Mark strived hard to do well in school. "I want to make my family proud of me and to also give back to the SM Foundation, Inc. and the Sy family who paved the way for me to have a brighter future."
According to Mark, he is in a very good place right now because the people at SM Foundation, Inc. believed in him. "The foundation made it possible for deserving but underprivileged students like me to continue studying in college and have a brighter future. Because of my scholarship, my mother's financial burden was lessened. My monthly stipend also helps me in my expenses," he says.
Mark says that aside from the financial assistance, the best thing about being an SM scholar is how they are being developed to be better persons. "It taught me to value education as our tool to improve our life and others' lives as well. The foundation instilled in us the value of 'people helping people' as we become servant leaders to our fellow youth," he says.
The SM College Scholarship Program is the flagship education project of SM Foundation, Inc. Now on its 20th year, the scholarship program has helped more than a thousand scholars nationwide to attain a college education, many of them gainfully employed with the SM Group of Companies and other companies here and abroad.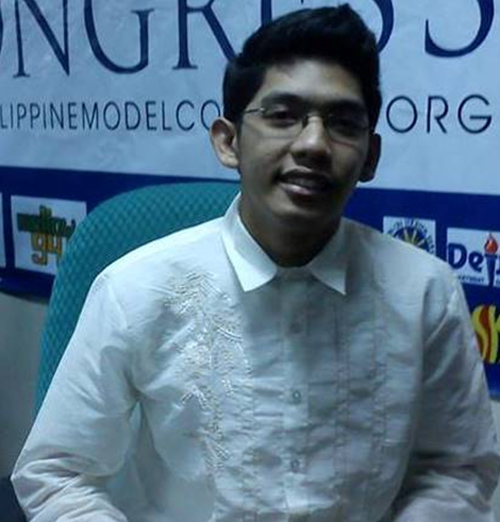 SM scholar Mark Abinsay will be one of the members of the Philippine Delegation in the Asian Youth Forum 2013.
About SM Foundation
SM Foundation is the socio-civic arm of the SM Group of Companies through which it helps the less fortunate in the communities it serves. The Foundation has four areas of advocacy: education through scholarship programs and donation of school buildings; health through medical missions, mobile clinics, and establishment of wellness and health centers; livelihood and community development; and the conduct of relief operations to victims of calamities. The Foundation intends to serve more communities as SM builds more malls around the country.