UP Cebu graduates develop gamified platform Codetoki, build rewarding IT careers
Codetoki eases search for computer science, IT jobseekers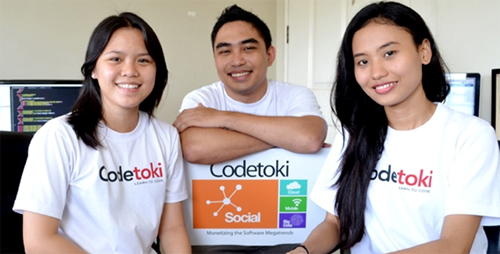 (Manila, Philippines, November 5, 2013) — Founded by two young developers from the University of the Philippines (UP) Cebu, Codetoki aims to beef up the quality of the Philippine computer science and information technology (IT) talent supply. It is a gamified platform that matches jobseekers with suitable employers based on points earned through coding challenges. It promises to transform the way aspiring coders learn and showcase their talent.
According to Philippine Software Industry Association (PSIA) president Joey Gurango, the local software industry has grown rapidly with US$1.16 billion export revenues by the end of 2012. However, it will continue to experience challenges in the talent supply.
"Ideally, Codetoki will bridge the gap between what the industry needs and what the academe produces," says Codetoki co-founder Honeylyn Balingcasag, a management graduate from UP Cebu. "Codetoki aims to help fresh graduates with no industry experience hone their skills and showcase their potential to companies. It will also ease the companies' pain  in their search for qualified applicants."
Multi-awarded platform
Prior to Codetoki, Balingcasag and her co-founder Ademar Tutor, a computer science graduate, founded a Ruby on Rails (programming application) development and design shop called Bootyard. Codetoki's first founding team member, Donna Limoran, a fresh management graduate also from UP Cebu, had been their intern. They were part of the team that worked together to pitch the idea of Codetoki during the first "Startup Weekend in Cebu," which was a weekend dedicated to pitching ideas, forming teams and starting companies held in May 2012. They placed third and won the Best in Social Enterprise App award.
The Codetoki team then joined competitions to validate their product idea. They received first place in AppBridge, an initiative of the World Economic Forum (WEF) and the Forum of Young Global Leaders (YGL) in 2012. Codetoki also won first place in AppsForAsia, a competition sponsored by Microsoft and Asian Development Bank (ADB) which allowed the power duo to exhibit Codetoki during ADB's 46th Annual Meeting in New Delhi, India in May this year.
"We are grateful to PSIA and their SPrInG.PH program where we received valuable mentorship from experienced technopreneurs," said Balingcasag of the startup incubation program. SPrInG.PH or the Software Products Incubation Group is a project of PSIA that began in August 2011, which mentors startups like Codetoki on how to succeed. "With their help, we were able to exhibit at the SoftCon (Philippine Software Industry Conference) last October and create awareness for our product."
Codetoki does not only enable coders to build their portfolio online, but its gaming aspect makes it more fun for them to refine their expertise. The platform is open to anyone who wants to learn Ruby, PHP or Javascript. "We want to send a message to students to keep learning because the opportunities available are grand. There are resources like Codetoki available online and mostly for free. The basic knowledge of programming can be self-learned. What they need is the right attitude to take control of their careers," Balingcasag added.
A part of the co-founders' future goals is to be able to offer Codetoki to countries that experience the same problem of employability among fresh graduates as the Philippines. Breaking barriers by providing young developers with a fun and free platform to nurture their programming skills, Codetoki has great potential to set standards in the global software industry. Still, Codetoki's main focus will still be strengthening the Philippines' talent pool.
In 2012, the IT outsourcing and software development sector employed 57,078 Filipinos according to data from the PSIA, a partner association of the Information Technology and Business Process Association of the Philippines (IBPAP).
Multi-awarded platform Codetoki does not only enable coders to build their portfolio online, but its gaming aspect makes it more fun for them to refine their expertise. In photo are (from left) Codetoki's Honeylyn Balingcasag, Ademar Tutor and Donna Limoran.
About the Information Technology and Business Process Association of the Philippines (IBPAP)
The Information Technology and Business Process Association of the Philippines (IBPAP) is the enabling association for the information technology and business process management (IT-BPM) industry in the Philippines. IBPAP serves as the one-stop information and advocacy gateway for the industry. With approximately 300 industry and support-industry members, including five associations—the Animation Council of the Philippines, Inc., Contact Center Association of the Philippines, Game Developers Association of the Philippines, Healthcare Information Management Outsourcing Association of the Philippines, and Philippine Software Industry Association—IBPAP plays a pivotal role in sustaining rapid growth of the IT-BPM industry by working to ensure an enduring supply of high-quality labor, supporting service innovation, and providing country visibility.
IBPAP assists investors in setting up operations easily and quickly in the Philippines. Relevant research, introductions to key government and industry officials, and a series of briefings at each step of the investment process ensure a seamless development process. Ongoing support is provided through a wide variety of initiatives, including programs for HR development, business development, knowledge sharing and networking opportunities.
About the Philippine Software Industry Association (PSIA)
The Philippine Software Industry Association, a partner association of the Information Technology and Business Process Association of the Philippines, is the premier organization of at least 160 companies engaged in software development and IT services outsourcing. It promotes the growth and global competitiveness of the Philippine software industry. For more information on PSIA's activities and projects, visit www.psia.org.ph.