SM scholars bring honor to National University, hailed inter-school champs
(Manila, Philippines, October 15, 2013) — National University engineering students recently won first and third place at the Rube Goldberg Machine Design Competition and the Integrated Institute of Electrical Engineers of the Philippines Inc.-Council of Student Chapters (IIEE-CSC) Regional Student Conference (RS Con) Regional Quiz Show, respectively.
Represented by five engineering students, the National University was this year's champ at the Synergy Summit 2013's Rube Goldberg Machine Design Competition held in the University of the Philippines Diliman. The contest was held in in honor of cartoonist Rube Goldberg's contraption designs, which depict a chain of machines doing simple tasks in an elaborate way. It will have students from five different universities and colleges to design and create a Goldberg-style chain reaction machine for their entries. This year, the action was to have their machine raise a flag.
"Last year was our first time to participate in the Summit and the Goldberg Design contest," says team captain Jerome Exito. "We were only able to place third last year. So this year, we were really motivated to win."
Of the five-member National University team, four are SM scholars. They are Exito, Eugene Nipas, Danilyn Aquino and April Banayat. "I am thankful to have had an opportunity to study and work alongside such great and bright individuals," Exito says. "We take pride in being able to bring honor to both our alma mater and the SM Foundation, Inc."
Exito, together with SM scholars Ayana Domingo and Nikko Murillo and three fellow engineering students, also won for National University a third-place finish at the IIEE-CSC Regional Quiz Show. The contest, held in September, gathered top electrical engineering students from 16 schools in NCR. National University hosted this year's competition.
"This is our last year so it was really a surprise when we won. We have received so much support from everyone and we will continue to do our best," says Domingo.
Murillo shares that the team is currently training for the national quiz show. "Two of us are from the lower batch so we have different schedules but we make sure to make time to meet and train. We want to be ready for nationals!" he says.
By winning third in the regional competition, the National University team will advance to the National Quiz Show Competition on November 28 at the SMX Convention Center. They will compete against engineering students from 21 schools from all over the country.
"We are really stepping up our game," Exito says. "We are very happy that we're able to host RS Con because it is the first major regional event in the university. Our win was a great bonus as well!"
'SM scholars are achievers'
Linda Atayde, executive director for Education of SM Foundation, Inc., says they are very proud of the accomplishments that SM scholars have achieved for themselves and for their schools. "We are honored to have such great scholars to be part of our family. They are achievers in their respective fields. We see so much potential in these students and we hope that they can continue to create and be part of even greater things," says Atayde.
Celebrating its 20th anniversary, the SM College Scholarship Program is the flagship education project of the 30-year-old SM Foundation, Inc. The program provides bright underprivileged students with a chance for higher education.
Scholars under the SM College Scholarship Program receive free tuition and miscellaneous school fees and monthly stipend. They are also given opportunities to work during summer and Christmas breaks in SM malls and Department stores and obtain possible employment under the SM Group of Companies after they graduate.
Atayde furthers, "We will continue to support those who strive to create a better future for themselves. This is what the SM College Scholarship Program is all about."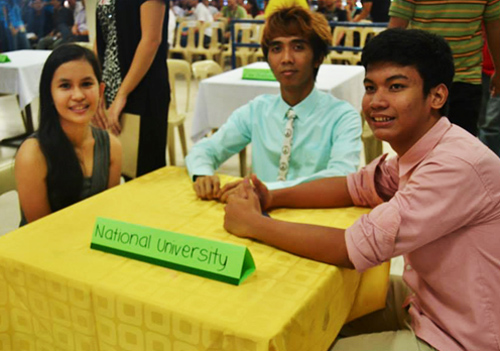 National University's pride: SM scholars Ayana Domingo, Jerome Exito and Nikko Murillo won for National University a third-place finish at the IIEE-CSC Regional Quiz Show.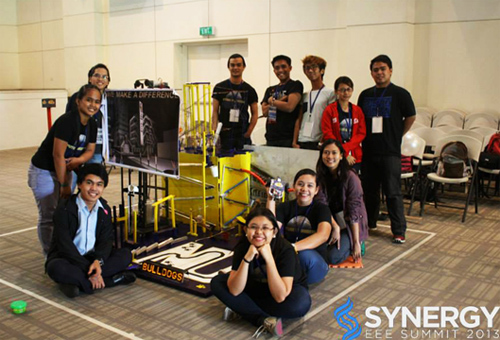 National University electrical engineering students and their winning entry to the Rube Goldberg Machine Design Competition at the Synergy: EEE Summit 2013.
About SM Foundation
SM Foundation is the socio-civic arm of the SM Group of Companies through which it helps the less fortunate in the communities it serves. The Foundation has four areas of advocacy: education through scholarship programs and donation of school buildings; health through medical missions, mobile clinics, and establishment of wellness and health centers; livelihood and community development; and the conduct of relief operations to victims of calamities. The Foundation intends to serve more communities as SM builds more malls around the country.