Stepping up for education: SM scholar seizes opportunities to become first college graduate in her family
Nineteen-year-old Vernadeth "Verna" Palma thought her life can't possibly be an inspiration to anyone. "I'm just like any other college student with a desire to graduate and help my family," she said. But as she recounted her journey to stepping to college, she realized the message her experience sends to the youth.
Verna, a local of Tarlac City, is the third child of a construction laborer and a housewife. Her parents finished high school, and from then on worked to make ends meet. Both her older siblings chose not to continue with their college education.
Meanwhile, Verna was valedictorian in grade school and was consistently in the top section in high school. As graduation drew nearer, Verna knew she didn't want to tread the path her older siblings took. She wanted to go to college.
Since her family wouldn't be able to support her, Verna sought scholarship opportunities. Just then, the SM College Scholarship Program was extended to Tarlac for the first time. "One day during graduation practice, our adviser called for us and announced SM Foundation, Inc. was accepting applications that day. I wasn't sure I would be accepted but I tried my luck. The exam and interview happened that very day."
But it was not mere luck. In 2010, Verna and 10 more students comprised the first batch of SM scholars in Tarlac. "I think I was granted this opportunity because I would be the first to finish college in my family. It's both a privilege and a responsibility, and I'm very grateful for it," she said.
SM Foundation Inc., the socio-civic arm of the SM Group of Companies, provides a chance for bright underprivileged students to complete higher education and pay it forward to their families.
Verna is currently in her fourth year taking BS Accountancy at Tarlac State University. Challenging is an understatement description of the course, seeing how from 200, the number of regular students has thinned to 16, with Verna still holding on.
"I am motivated by my dream to help my family. It's hard for me to see them struggle when I know I can do something. There's also pressure to maintain my scholarship. It's not just intellect that could keep me going. I believe hard work factors just as much in becoming successful," Verna said.
A year from now, she will be graduating and reviewing for the CPA (Certified Public Accountant) licensure exam. "By this time I will be out of scholarship, but the training from being an SM scholar has made me more confident. My summer jobs being a saleslady at SM Department Stores has given me a taste of working in the 'real world,' and has made my aspiration to be a CPA stronger," she said.
SM scholars receive free tuition and miscellaneous school fees, and monthly stipend. During summer and Christmas breaks, they are given opportunities to work in SM malls. Verna has been contributing portions of her allowance and earnings to her family. "My parents apologize to me for not being able to provide well, but I don't blame them. Now I motivate my younger siblings to study well and aim high. If I were the eldest, I would have encouraged my ate and kuya also."
Verna is just one of the thousands of scholars SM Foundation, Inc. has reached out to in its 21 years of service. The foundation is now conducting screenings for the new batch of scholars for the next academic year.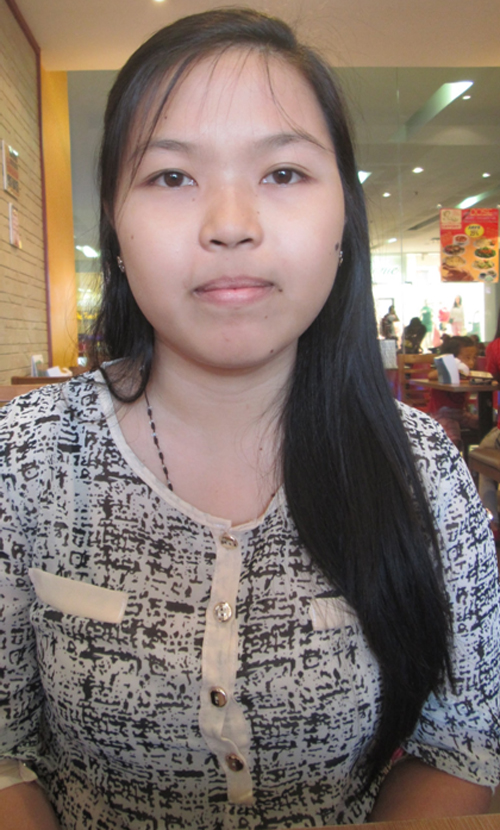 SM scholar Vernadeth Palma.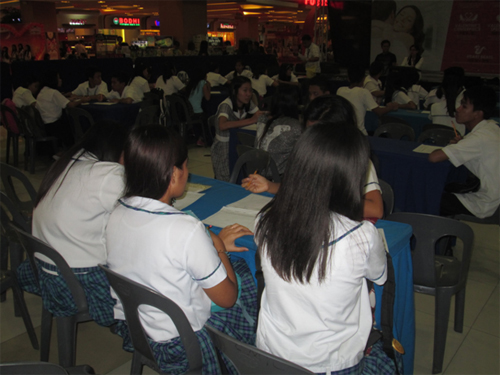 Screening for the SM College Scholarship Program at SM Tarlac.
About SM Foundation, Inc.
SM Foundation is the socio-civic arm of the SM Group of Companies through which it helps the less fortunate in the communities it serves. The Foundation has four areas of advocacy: education through scholarship programs and donation of school buildings; health through medical missions, mobile clinics, and establishment of wellness and health centers; livelihood and community development; and the conduct of relief operations to victims of calamities. The Foundation intends to serve more communities as SM builds more malls around the country.