TELUS executive receives Gawad Kalinga (GK) nation builder award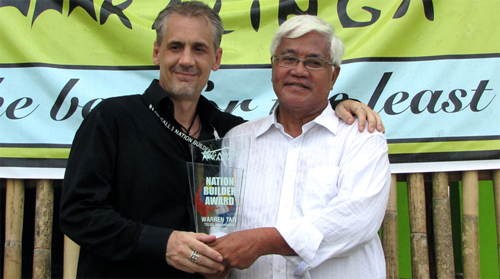 [In photo: TELUS International Philippines vice-president for AMITS Warren Tait, left, receives the GK nation builder award from Gawad Kalinga founder Tony Meloto.]
Manila, Philippines — Warren Tait, TELUS International Philippines (TIP) vice-president for Application Management and Information Technology Services (AMITS), was recognized with the prestigious Gawad Kalinga (GK) Nation Builder award.  He has been supporting TELUS-GK community projects since October 2007 by organizing team members to build homes and host livelihood activities.  Last year, Warren participated in the GK Bayani Challenge in Cebu, traveling to a remote location to build a community of houses in just five days with a team of TIP volunteers and residents of the TELUS-GK village.
"It is an honor to be given this recognition. I consider the TELUS-GK communities a huge part of my life. I'm truly happy I am able to lend a hand and help build homes in partnership with residents of the community where we work, live and serve," Warren said.
TIP's unwavering commitment to corporate social responsibility is apparent in its partnership with GK in support of their vision and mission to build communities to end poverty.  TIP has built 55 homes and a three-storey multi-purpose hall in its first TELUS-GK Village in Pook Masagana, Quezon City and plans to complete 125 houses in Batasan Hills' TELUS-GK Village 2 by the end of the year.
About TELUS International Philippines
TELUS International Philippines, Inc. is a leading Philippines-based provider of contact center and business process outsourcing solutions. It is a subsidiary of TELUS Communications, a national telecommunications company in Canada, with $10.4 billion of annual revenue and 12.7 million customer connections including 7.3 million wireless subscribers, 3.6 million wireline network access lines, 1.3 million Internet subscribers and more than 500,000 TELUS TV customers. For more information about TELUS International, please visittelusinternational.com.