TESDA graduates establish careers in the IT-BPM industry
(Manila, Philippines, September 3, 2013) — In late 2011, the government allocated a total of ?500 million for the Industry-based Training for Work Scholarship Program (I-TWSP) to help increase and train the talent pool for the fast-growing IT-BPM industry. The I-TWSP, a collaborative program between the Technical Educations and Skills Development Authority (TESDA) and the Information Technology and Business Process Association of the Philippines (IBPAP) and its partner associations, has since used the funds to train 65,000, of which 70 percent or 46,000 were employed by March 2013.
In his recent State of the Nation Address, President Benigno S. Aquino III showcased Emerson Paguia, a balut vendor, who landed a job as a software programmer after completing an I-TWSP course. Paguia is not alone.
John Espejon, who dreamt of earning a little more for himself and his family, availed of the free industry training from the Call Center Academy (CCA). After 100 hours of training, Espejon was able to acquire the necessary skills to become a customer service representative.
"I can't be more thankful for the scholarship they granted me. This opportunity has given me the inspiration to go and pursue my dreams. CCA has been my source of strength especially during the times when I felt hopeless. Completing the training felt like finishing a college degree because of the opportunities it has given me," says Espejon, who worked as a security guard before landing a job in a call center.
Now part of the 497,000-strong voice industry, Espejon credits his training in CCA for this newfound success. According to him, CCA helped him learn the basics of English grammar, the complexities of customer service, and the job application process. It gave him pride in work.
With the industry diversifying in breadth and scale, TESDA is also offering courses on requisite skills in the different IT-BPM sectors. In addition to finishing courses for contact centers, TESDA also offers courses in animation, software development, game development, and medical transcription.
TESDA designated several technical vocational institutions (TVIs) to carry out this industry-specific training. Call Center Academy and MxSecure, Inc., which offer training scholarships for contact center and medical transcription, respectively, are two of the many of TESDA-accredited TVIs for IT-BPM courses.
Sara Jane Aldea, a licensed nurse, was teaching English as a second language. "When I found out about the training being offered by MxSecure, Inc., I saw an opportunity to learn and earn as well as make use of my medical training," said Aldea.
Aldea wasted no time and immediately trained to become a medical transcriptionist. In just three months, she was absorbed by MxSecure, Inc., a healthcare information management company, and is now part of the production team. "I finally found a place where I can earn a comfortable living and at the same time be able to use my medical skills. I am thankful for an opportunity like this," she said.
I-TWSP, however, is not exclusive to those who want to shift careers. TESDA, under Director General Joel Villanueva, also prioritizes the training of industry trainers in information technology and business process management (IT-BPM).
Trainers Methodology (TM) Plus, the IT-BPM industry's counterpart of TESDA's trainer course, is a vital component of the I-TWSP. "TM Plus training provides the means for trainers to acquire the competencies required to capably deliver training at IT-BPM industry standards. This is an important and necessary step in developing the educational infrastructure to prepare students for today's jobs," Villanueva said.
The important third-leg in the I-TWSP is the direct participation of IT-BPM companies. Recently, IBPAP recognized member-companies that hosted TM Plus trainees in their companies to immerse them in operations. Trainees were given the opportunity to closely observe operations in global IT-BPM companies, including Aegis, B&M Global Services Manila, Dell, IBM Global Process Services, Ingram Micro, iVentures, Sitel, SPi Global, Stream Global Services, Sykes Asia, Sutherland Global Services, and other IT-BPM institutions in Visayas and Mindanao.
"Sutherland knows the importance of this collaboration with IBPAP and the academe to increase talent options available in the industry," says AJ Enriquez, VP and country head of Sutherland Philippines. "Sutherland plays a key role in the development and advancement of the Filipino talent, especially in the Next Wave Cities™ through its College Connect program."
Due to the success of the program, TESDA approved a new budget of ?310 million for this year's I-TWSP, with ?8.2 million allocated for TM Plus. Implementation of TM Plus will be from September to December 2013, with 410 vouchers available to train trainers from Luzon, Visayas and Mindanao.
"There are many training outfits in the country but most don't train for knowledge work," says Olive Ybanez, a graduate of the TM Plus program and trainer from Aegis Inc. "TM Plus re-tooled us so that we are skilled to effectively train potential IT-BPM professionals. Imagine creating squares where round shapes are required. This usually comes from not having the correct picture of what we are training people for. TM Plus was created to specifically address that challenge." (For those interested in claiming a voucher for the TM Plus trainings, you may contact IBPAP TM Plus Project Manager Florelixie Neo at (632) 817 2727 or 0917-8106683 and 0999-8856450).
Committed to achieving its target of employing 1.3 million Filipinos by 2016, the IT-BPM industry continues to provide training to near-hires, current professionals and certified trainers to arm them with the necessary skills to deliver high-value, high-quality IT-BPM services.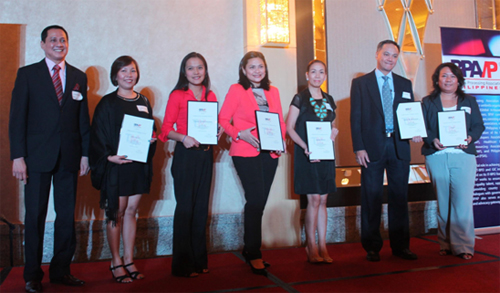 IBPAP recognized member-companies that hosted Trainers Methodology Plus (TM Plus) participants from the academe and TESDA's technical vocational institutions. TM Plus is a trainers' program jointly developed by TESDA and IBPAP for the business process management industry.
Photo shows (from left): Jose Mari Mercado (IBPAP president and CEO), Sandra Uyao (Sykes Asia Inc.), Mayan Quintana (Stream Global Services Philippines), Cathy Ileto (Sutherland Global Services), Ofelia Montallana-Orcales (Ingram Micro), Renato Derpo (B&M Global Services Manila Inc.) and Olive R. Ybanez (Aegis Inc.). Other industry partners are Dell Customer Contact Center, IBM Global Process Services, iVentures, Sitel, and Stream.
About the Information Technology and Business Process Association of the Philippines (IBPAP)
The Information Technology and Business Process Association of the Philippines (IBPAP) is the enabling association for the information technology and business process management (IT-BPM) industry in the Philippines. IBPAP serves as the one-stop information and advocacy gateway for the industry. With approximately 300 industry and support-industry members, including five associations—the Animation Council of the Philippines, Inc., Contact Center Association of the Philippines, Game Developers Association of the Philippines, Healthcare Information Management Outsourcing Association of the Philippines, and Philippine Software Industry Association—IBPAP plays a pivotal role in sustaining rapid growth of the IT-BPM industry by working to ensure an enduring supply of high-quality labor, supporting service innovation, and providing country visibility.
IBPAP assists investors in setting up operations easily and quickly in the Philippines. Relevant research, introductions to key government and industry officials, and a series of briefings at each step of the investment process ensure a seamless development process. Ongoing support is provided through a wide variety of initiatives, including programs for HR development, business development, knowledge sharing, and networking opportunities.