GDAP showcases game support niche in PH
(Manila, Philippines, September 3, 2013) — Game support is an emerging niche in the Philippine game development industry and pushing its growth is an important strategy in sustaining the local video game industry, says Andro Baluyut, chief executive officer of GameOps and a board member of the Game Development Association of the Philippines (GDAP).
"When it comes to online games, the quality of the support provided to players can determine the life span of a game and the community that plays it. Having an intimate understanding of the game allows service providers to not only achieve their internal goals but also directly and measurably ensure the success of their client's product. This stimulates more business and improves client relations," says Baluyut as he reflects on the potential of game support in the information technology and business process management (IT-BPM) industry.
GameOps is a Philippine company that focuses solely on online game support. Its services include strategic consultancy, game and community management, retention, and monetization.
"In this industry, having players doesn't mean having revenue. So, the responsibility of service providers for game support is two-fold: retention and monetization," explains Baluyut. "Service providers need to understand the business of their clients, of how retaining players through support affects the revenue generated by game publishers."
Identifying a core issue cited repeatedly by a player is essential in addressing the source of the problem for the community in general. Critical issues, such as accessibility, exploits, or design flaws not only affect the player who has experienced them but can also result in negative feedback that may spread throughout the game's online community.
Breathing life into games
Baluyut points out that experience in game publishing is an advantage for those considering game support as a career. Industry knowledge allows a professional to anticipate solutions and create value.
"Is this a technical, design, or interface issue? How does this affect revenue? How many players are affected? Does this have the potential to become a serious issue when the player base hits a certain critical mass?" says Baluyut, describing some of the issues they anticipate and analyze for their clients. Providing a solution for a player encountering problems in a game requires sharp analytical skills and a good understanding of player behavior.
As CEO, Baluyut makes it a point to be hands-on in harnessing the potential of his employees and ensuring the high quality of their performance. "You need to know your game. You need to know your product," he constantly reminds them.
Game support builds loyalty and compels consumers to spend. A number of online and mobile games are free and creativity is needed to devise strategies to propel revenues. Approaches to monetization include strategic programs, direct advertising, and targeted promotions and events.
GameOps is a member of GDAP, an organization that represents and promotes the country's game development sector. Its member companies come together to do research and development projects, strengthen partnerships, and support industry training and promotions. GDAP, led by its president Alvin Juban, aims to provide education through collaborative efforts with the academe and the government. GDAP is currently implementing training in game development in Zamboanga City.
"The global industry may be aware that the Philippines is an outsourcing capital but they are not aware that we have services in highly specialized fields such as game support," says Baluyut, who believes that the Philippines should invest more on developing and publishing locally made games. "If we drive investment to create local content and intellectual property, then we can build a whole new industry that can provide even more high-quality jobs and earn greater revenue."
Baluyut will share his expertise in a breakout session during the 5th Annual International Outsourcing Summit, slated October 6 to 8, 2013, at the Makati Shangri-La. With the theme "Unlocking Possibilities, Creating New Vistas," the high-level summit will bring to the fore the important issues related to the industry's development, particularly its emergence as a powerful economic force and an agent of transformation.
For more information on the summit, visit www.internationaloutsourcingsummit.com. Delegates may download the app for free from iTunes (https://itunes.apple.com/us/app/international-outsourcing/id677567250?mt=8) and Google Play Store (https://play.google.com/store/apps/details?id=com.teamasia.internationaloutsourcingsummit). For inquiries, contact +632 757 3500 ext. 309 or e-mail Dana Abasa at dtabasa@teamasia.com.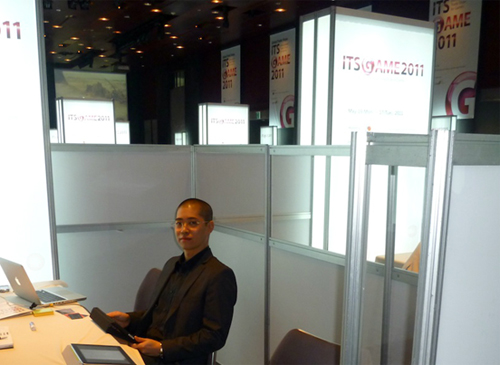 "You need to know your game. You need to know your product," says Andro Baluyut, CEO of Game Ops, Inc. To promote the budding game industry in the Philippines, he attends trade missions, some of which include Korea's Its Game held in May 2011.
About the Information Technology and Business Process Association of the Philippines (IBPAP)
The Information Technology and Business Process Association of the Philippines (IBPAP) is the enabling association for the information technology and business process management (IT-BPM) industry in the Philippines. IBPAP serves as the one-stop information and advocacy gateway for the industry. With approximately 300 industry and support-industry members, including five associations—the Animation Council of the Philippines, Inc., Contact Center Association of the Philippines, Game Developers Association of the Philippines, Healthcare Information Management Outsourcing Association of the Philippines, and Philippine Software Industry Association—IBPAP plays a pivotal role in sustaining rapid growth of the IT-BPM industry by working to ensure an enduring supply of high-quality labor, supporting service innovation, and providing country visibility.
IBPAP assists investors in setting up operations easily and quickly in the Philippines. Relevant research, introductions to key government and industry officials, and a series of briefings at each step of the investment process ensure a seamless development process. On-going support is provided through a wide variety of initiatives, including programs for HR development, business development, and on-going knowledge sharing and networking opportunities.
About the Game Developers Association of the Philippines (GDAP)
Established in 2007, the Game Developers Association of the Philippines (GDAP) is a leading trade association in the Philippines that represents and promotes the country's game development industry. Its members create and publish interactive games and entertainment content for various platforms. GDAP is supported by various affiliate member organizations including schools and universities, game talent agencies, publishers, as well as retailers, all of whom play key roles in the country's thriving game industry. GDAP is a member of the Information Technology and Business Process Association of the Philippines.