Bikram yoga: A beginner's yoga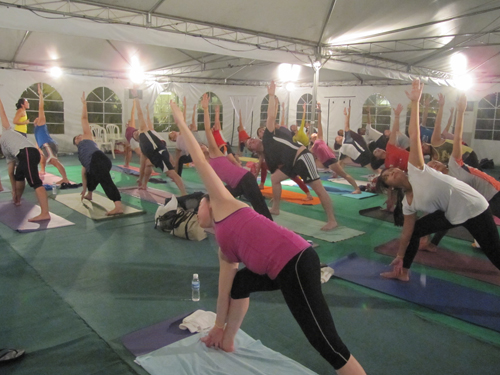 Photo: Regular and first-time Bikram yogis do the Triangle or Trikanasana pose at the 2012 Global Mala Project in Manila. Performed in a heated room, Bikram yoga is a scientifically designed 90-minute program to deliver total health through balancing and strengthening every system in the body.
The recent Global Mala Project gathered hundreds of different people for a day of wellness, celebration and optimism through yoga. Two tents at the Rockwell Center housed different forms of yoga—variants of flow, yoga for athletes, poi and drums, dance, and many more. And then there was Bikram yoga, but minus the heat that it is well-known for.
"Less heat due to the venue became perfect for beginners who have never tried Bikram yoga or are a bit intimidated by the heat," said Ginger Diaz, a certified Bikram instructor and studio director of Bikram Yoga Alabang. "It was a great way to show them the basic postures," she said.
"The reason for heat is to help people be a bit more flexible. The 26 postures and two breathing exercises in Bikram yoga are the same in every class so your body could get used to it," Diaz said. "More importantly, you don't have to be a pretzel to get the benefits from Bikram yoga."
Taking the heat away will actually be more challenging. The recommended temperature, which is 40 degrees Celsius and about 40 percent humidity, detoxifies the body and improves strength, according to the Bikram Yoga College of India. Each pose can help address certain health concerns.
Aruba Opida, chief financial officer at a real estate firm, credited Bikram yoga for the relief of her migraine and back muscle tension. For 10 months now, she has religiously attended classes at Bikram Yoga Alabang and even completed two 30-day challenges. "I've tried medications, therapy and acupuncture, but only Bikram yoga resolved the pain. I'm definitely not stopping," she shared. The Rabbit and Head to Knee poses helped ease her back pain.
It has been four years since Ezra Amechazurra, an environmental consultant, practiced Bikram yoga. "My pole dancing teacher recommended Bikram yoga to improve our flexibility," she said, adding that she hopes to practice regularly in a studio.
One of the most popular yoga styles, Bikram yoga is practiced by celebrities such as Lady Gaga, Jennifer Aniston, and George Clooney. It is also popular among athletes, including David Beckham and the XTRM Triathlon team.
Diaz observes that the heat will always be the main consideration for new practitioners. "The best way to go about it is to accept the heat as vital part of the process—and learn to let go," she advised.
Chris Dodds, a journalist, enjoyed the class even as a beginner. "It wasn't extreme as the other classes so I can cope with the balancing poses." He said he's definitely trying it out again.
The good turnout of students during the Global Mala Project proved the strong interest in yoga. "Though Bikram yoga was among the last set of classes, I still felt the energy was high," Diaz said. "I tried to reassure the students with words and reminded them to constantly breathe, as they would in any other form of yoga. I hope they got a feel of the benefits they can get from regular practice."
Organizers of the Global Mala Project raised funds for non-profit organizations Trees for the Future, Tubbataha Reefs Natural Park and Coalition Against Trafficking in Women. Now on its 5th year, the Manila event commenced a worldwide yoga month. "Every year it's evolving, but I find this year the biggest and most successful," Diaz said.
About Bikram Yoga Alabang
Bikram Yoga Alabang is a certified, state-of-art Bikram Yoga studio located at the 2 nd Floor, Commerce Center, Commerce Ave., Filinvest Corporate City, Alabang, Muntinlupa City.
Bikram Yoga involves a series of 26 postures and two breathing exercises performed inside a heated studio (40ºC). The postures are designed to promote balance, strength, physical health, and mental well-being.Students at Bikram Yoga Alabang are taught by a team of licensed instructors led by studio director Ginger Diaz. For inquiries, call 8465496 and 09279169909 or send an email to bikramyogaalabang@yahoo.com. You may also visit the Bikram Yoga Alabang website at www.bikramyogaalabang.com.
Be a fan on Facebook: www.facebook.com/bikramalabang.
Follow us on Twitter: @bikram_alabang.