Dreams are made of this: A scholar's tale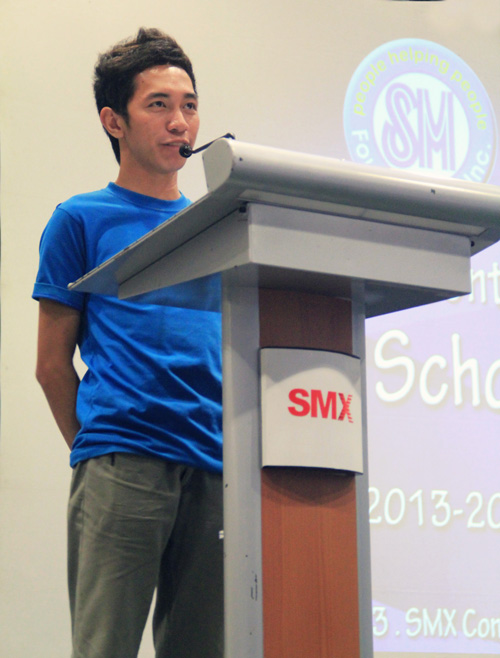 SM Scholar Cedric Baybayon, who graduated summa cum laude from National University, addresses incoming scholars of the SM College Scholarship Program.
(Manila, Philippines, May 3, 2013) — Feeling the pressure of parents who could not afford to send their child to college, Cedric Baybayon was worried about his future. So when given the opportunity to go to college for free, Cedric immediately grabbed it. Four years later, he graduated as summa cum laude and acknowledged the people who helped him fulfill his dreams.
"Since I'm the eldest child and our father is working hard in another country, I first thought of his sacrifice just to provide for the family," he shared. "Since my siblings do not have any father figure to look up to because of the absence of our father, I took it upon myself to be a role model to them. I'd like to think I was successful."
Baybayon is the eldest among a brood of five. Although his father is an overseas Filipino worker (OFW) in Saudi Arabia, the family could not afford to pay for his college tuition. His mother, on the other hand, is a cashier at a lodging house in their hometown in Marikina City.
Theirs was not an isolated case. In 2012, statistics showed that there were 2.2 overseas Filipino workers who left their families behind. Of these OFWs, 22.6% were working in Saudi Arabia. As more and more Filipinos leave to work abroad, families are left to survive with one or both parents absent. Children are usually left to the care of grandparents or other relatives.
Fortunately for the Baybayon household, Cedric's got a firm head on his shoulders and made the family's disadvantage work to his benefit. Instead of being a hindrance, the absence of his father served as inspiration for Cedric to find ways to get a college education.
Life as a scholar
Baybayon, who was able to finish college through the support of the SM College Scholarship Program, said he will forever be grateful. "All these would not be possible if SM Foundation did not believe in me. SM Foundation has provided me the means to realize my dream to finish college. I will be forever grateful for the opportunity," said Baybayon, a Computer Science graduate from the National University.
"I had a classmate from Marikina Science High School who informed me that there were openings for the SM scholarship program of the SM Foundation. I went with him to apply," Baybayon recounted. Despite being offered a scholarship by a university, Baybayon chose the SM scholarship. "That time, I believed I reached a decision that changed my life."
As an SM scholar, Baybayon met some more students who shared his situation. But most importantly, he earned a support group that he depended on whenever times get tough. "As part of the SM Foundation family, I would have someone to share my college life with. I knew then that I would never have to go through college alone," he said.
"Getting into college, I was shocked at how everybody seemed to be liberated. It was a completely different world for me," recalled Baybayon. But he did not waver. He was resolute in his decision to take college seriously. "I did not get involved with a girlfriend for four years. I did not get a job despite really wanting to because I need to focus and concentrate on my studies. And I didn't have any vices—no alcohol, cigarettes and computer games."
Paying it forward
One motivation for the young scholar is his desire to pay back the goodness SM Foundation showed him by becoming a model student. "As a member of the SM Foundation family, I am also responsible to play the part of one of its children. If the scholarship program sets a maintaining grade of 85, I challenge myself by setting a maintaining grade of 90. With a lot of perseverance and hard work, and by the grace of God through faith, I was able to do it," said Baybayon.
Now on its 20th year, the SM College Scholarship Program continues to provide quality education to bright underprivileged students of our society. The program aims to create avenues in further advocating education as a priority and a right to every child, despite their social standing.
Just recently, 170 scholars signed their contracts with SM College Scholarship program in SMX. Some more 170 scholars from Baguio, Pangasinan, Tarlac, Olongapo, Pampanga, Batangas, Lipa, Lucena, Naga, Cebu, Iloilo, Bacolod, Davao, General Santos, Cagayan de Oro, Cauayan and Tacloban simultaneously signed their contracts in select SM malls.
As scholars under the SM College Scholarship Program, they will receive free tuition and miscellaneous school fees and monthly stipend. They will also be given opportunities to work during summer and Christmas breaks in SM malls and Department stores and obtain possible employment under the SM Group of Companies after they graduate.
Baybayon told the new SM scholars at SMX, "I tell you, I haven't met someone yet who did not succeed by doing the right thing. If you do just that, you might just be the one standing here in my position addressing the new batch of SM scholars a few years from now. Again, I am very proud to say I am an SM scholar."
About SM Foundation
SM Foundation is the socio-civic arm of the SM Group of Companies through which it helps the less fortunate in the communities it serves. The Foundation has four areas of advocacy: education through scholarship programs and donation of school buildings; health through medical missions, mobile clinics, and establishment of wellness and health centers; livelihood and community development; and the conduct of relief operations to victims of calamities. The Foundation intends to serve more communities as SM builds more malls around the country.