Philippine Software Industry Association celebrates 25 years of success
Software development and IT outsourcing are cornerstones for IT-BPM growth
(Manila, Philippines, June 4, 2013) — Progress in software development and IT outsourcing (ITO) sector is crucial to the growth of the information technology and business process management (IT-BPM) industry, according to the Philippine Software Industry Association (PSIA). The association, whose pioneering work has largely contributed to the success of the sector, is celebrating its 25th anniversary.
"Through the years, the Philippines has been an important destination for outsourcing software development and IT services," said Nora Terrado, president of PSIA. "Our sector is composed of companies with solid track records of delivering high-value software services and with decades of software development experience focused on niche technology areas and industry domains."
PSIA played a key role in an industry delegation for Japan IT Week's Software Development Expo (SODEC), participating in a series of meetings, seminars, and an exhibition. The PSIA delegation included Advanced World Systems, Inc., Alliance Software, Inc., CAI-STA Philippines, Inc., ManpowerGroup, Pointwest Technologies Corp., PNI Business Solutions, Tsukiden Global Solutions, and Ubiquitous Technologies Philippines, Inc.
During the event, the Philippine software and IT industry was highly commended by Taro Naguchi, founder of KLab Scorpions, a Japanese firm that invested in the Philippines. In a testimonial speech, Naguchi shared how business is done in the Philippines as well as the success story of his company. Furthermore, Keizo Kawata of Nihon Unisys Ltd. said one of the advantages of Filipino software developers and IT professionals is their ability to speak English better than their competitors.
In the annual ranking of the top 100 global outsourcing destinations by investment advisory firm Tholons released early this year, Philippine cities Manila (NCR) and Cebu City are included in the top 10. Manila (NCR), ranked No. 4 in 2012, rose one notch to No. 3, behind Indian cities Bangalore and Mumbai. Cebu City, formerly at No. 9, also went up one rank and pushed Dublin from the eighth spot.
On June 4 and 5, PSIA director and Gurango Software Corporation (GSC) founder and CEO Joey Gurango will discuss startups and the innovation ecosystem at the the Cebu ICT-BPO Conference organized by the Cebu Educational Development Foundation and Information Technology (Cedf-it).
PSIA's series of activities to mark its 25th anniversary will conclude in a general membership meeting and culminating dinner entitled, "PSIA Silver Night" on June 28 which will be attended by representatives from 150 member companies.
International research firm Everest Group reports that the Philippines is already a mature destination for software development and ITO, joining the ranks of India, China, and Poland. The sector's key strengths and drivers include English skills that support voice-associated IT delivery such as technical help-desk, strong social media penetration that enables content creation, and cultural affinity with US and Asian markets.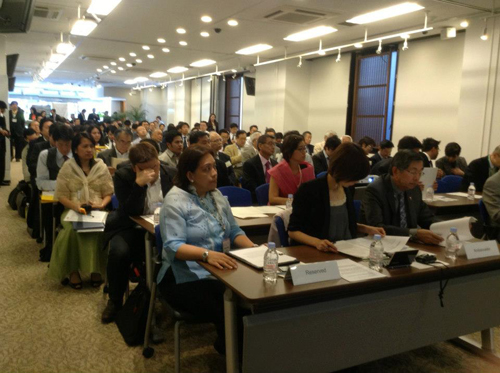 130++ Japanese executives attending the Philippine Software & ITO Seminar — the biggest attendance in many years.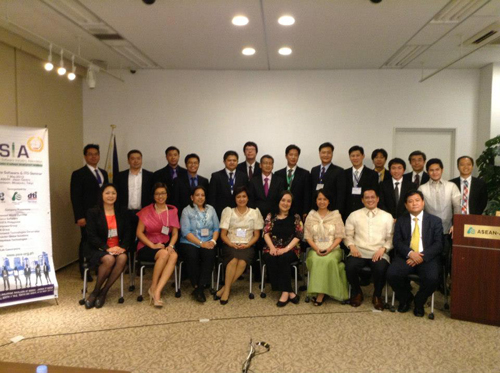 Philippine delegation composed of 8 software/IT companies, PSIA, iBAP, and ICTO, with Commercial Consul Dita Angara-Mathay (fourth from right) and Commercial Attache Froilan Pamintuan (rightmost).
About the Information Technology and Business Process Association of the Philippines (IBPAP)
The Information Technology and Business Process Association of the Philippines (IBPAP) is the enabling association for the information technology and business process management (IT-BPM) industry in the Philippines. IBPAP serves as the one-stop information and advocacy gateway for the industry. With approximately 300 industry and support-industry members, including five associations—the Animation Council of the Philippines, Inc., Contact Center Association of the Philippines, Game Developers Association of the Philippines, Healthcare Information Management Outsourcing Association of the Philippines, and Philippine Software Industry Association—IBPAP plays a pivotal role in sustaining rapid growth of the IT-BPM industry by working to ensure an enduring supply of high-quality labor, supporting service innovation, and providing country visibility.
IBPAP assists investors in setting up operations easily and quickly in the Philippines. Relevant research, introductions to key government and industry officials, and a series of briefings at each step of the investment process ensure a seamless development process. Ongoing support is provided through a wide variety of initiatives, including programs for HR development, business development, knowledge sharing and networking opportunities
About the Philippine Software Industry Association (PSIA)
The Philippine Software Industry Association, a partner association of the Information Technology and Business Process Association of the Philippines, promotes the growth and global competitiveness of the Philippine software industry. It is proud to have a collaborative ecosystem of mature small and medium companies experts in niche technology areas; highly English-proficient, adaptive, and customer-oriented workforce; robust and secure ICT infrastructure; and cost advantage for high-value end-to-end solutions. For more information on PSIA's activities and projects, visit www.psia.org.ph.