Raising scholars, investing in education
Gilario Gloria Jr. and his wife Agnes may not have high-paying jobs but they sure know where to invest. The couple, who owns a simple sari-sari store, is investing heavily on education so that they can secure a bright future for their three children. Because it is the only legacy they can leave their children, Gilario and Agnes encouraged them to study hard and put value into their education.
"Teach them the ideas and values you want them to carry while they're still young," says Gilario in the vernacular. "It's true what they say that it's about how you raise them. If you start them good, there's no doubt they'll excel in life."
Luisa, the eldest of the Gloria siblings, recalls that their parents used to monitor their progress in school and would allot time to check on their academic requirements. Agnes shares that they even encouraged their firstborn Luisa to learn lessons in advance.
"We always made time to supervise them in their studies," says Agnes in the vernacular.
Thankful for support
Gilario and Agnes know that their meager income would not be enough to send all their three children to school. But they need not worry because they raised their kids well and that Luisa and her two siblings are bright enough to bag scholarships to support their education.
"People would tell us that we were lucky to have such bright children. But it's not pure luck. It's also hard work," says Agnes.
Luisa qualified for a scholarship grant under the SM College Scholarship Program of the SM Foundation, Inc., the socio-civic arm of the SM Group of Companies. An Accountancy senior at Far Eastern University, Luisa is a few steps closer to her dream of becoming a licensed accountant. She shares that her two younger siblings (one in college as well, another one in high school) are also scholars.
"As an SM scholar, I feel very blessed and thankful that I am given this opportunity to study without having to worry about anything else," says Luisa. As a scholar, she receives free tuition and miscellaneous school fees and monthly stipend. She is also given opportunities to work during summer and Christmas breaks in SM malls and Department stores and obtain possible employment under the SM Group of Companies after they graduate.
According to Luisa, she is inspired by how her parents value education. Her parents, she adds, were working students before. "Both of them came from not-so wealthy families so they needed to do extra work during their college days to support themselves financially. They strived hard to be able to get a chance at education."
Gilario instills the important value of gratitude in her daughter Luisa. "There have been many others who have helped you get to where you are today. I remind her to pay it forward—just like Sir Henry Sy who have helped so many kids have a chance at education. We hope that Luisa can also help support others after she graduates.
"We are very proud of our children and their accomplishments. We want them to succeed in everything they do and we want to thank good Samaritans like those behind the SM College Scholarship Program who made opportunities like these possible for our children," says Agnes.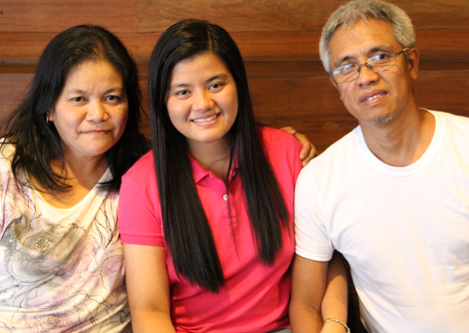 Gilario and Agnes Gloria with daughter, SM scholar Luisa Gloria.
About SM Foundation, Inc.
SM Foundation is the socio-civic arm of the SM Group of Companies through which it helps the less fortunate in the communities it serves. The Foundation has four areas of advocacy: education through scholarship programs and donation of school buildings; health through medical missions, mobile clinics, and establishment of wellness and health centers; livelihood and community development; and the conduct of relief operations to victims of calamities. The Foundation intends to serve more communities as SM builds more malls around the country.