A new beginning for Tacloban SM scholars
(Manila, Philippines, March 12, 2014) — After typhoon Yolanda ravaged Tacloban, Leyte, and various parts of Visayas in November 2013, 4 million people were forced to flee from their hometowns, leaving behind their properties and livelihood. Still, many others remained and have started rebuilding their homes and their lives.
Schools and universities were not spared from being destroyed by Yolanda, but this didn't put a stop to education. Recently, SM Foundation Inc., the socio-civic arm of the SM Group of Companies, released a list of its new batch of scholars under the SM College Scholarship Program. Three of these recipients hail from Tacloban: Jessabelle Animos, Charlene Talua, and Clarissa Buenvenida.
All three and their families remained in Tacloban despite the wreck caused by Yolanda. Jessabelle and her family live near the shore. At the height of Yolanda, the water did not reach their nipa house, but the intense wind damaged it. In Charlene's case, the roof of their house was blown away, and they had to borrow P10,000 to install new metal roof sheets (yero). A source of livelihood for her family now are pigs, which they sell whenever someone gets sick in the family. Clarissa, meanwhile, lives with her aunt. Their roof was also blown away, and now has a makeshift roof. Four months after the storm, they still don't have electricity.
These unfortunate circumstances didn't deter the three achievers—who all have a collection of medals for their academic excellence in school—from pursuing their dreams. It pushed them even harder to use their potential for something that could help their families have better lives.
"We've seen how much typhoon Yolanda altered the lives of these people. It may have let many people down, but these scholars chose to strive for the better. More than an opportunity, this scholarship is renewed hope for them," said Linda Atayde, executive director for Education of SM Foundation, Inc.
Jessabelle, Charlene, Clarissa and the new batch of SM scholars will receive free tuition and miscellaneous fees, as well a monthly stipend. They also have the opportunity for a gainful employment at the SM Group of Companies when they graduate.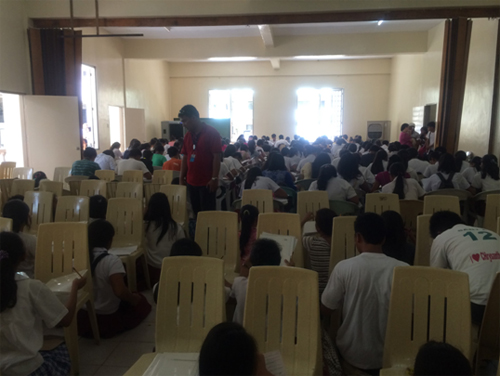 A ray of hope. In a screening process for the SM College Scholarship Program in Tacloban, potential scholars showed how determined they were at getting a chance at a college education.
About SM Foundation
SM Foundation is the socio-civic arm of the SM Group of Companies through which it helps the less fortunate in the communities it serves. The Foundation has four areas of advocacy: education through scholarship programs and donation of school buildings; health through medical missions, mobile clinics, and establishment of wellness and health centers; livelihood and community development; and the conduct of relief operations to victims of calamities. The Foundation intends to serve more communities as SM builds more malls around the country.