SMFI signs MOA with MAPSA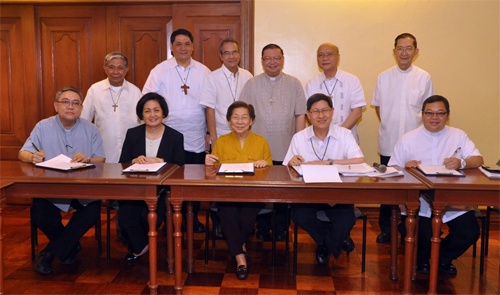 SMFI signs MOA with MAPSA. SM Foundation, Inc. (SMFI), the socio-civic arm of the SM Group of Companies, recently signed a memorandum of agreement with the Manila Archdiocesan and Parochial Schools Association (MAPSA). SMFI and MAPSA agreed to jointly offer college scholarships to deserving high school graduates of MAPSA member schools seeking college degrees from SMFI partner schools. MAPSA scholars will enjoy 100 percent scholarship on tuition and miscellaneous fees, and stipends in the undergraduate program. In return, MAPSA will conduct spiritual and value formation seminars and activities to benefit all SM scholars to contribute to the foundation's initiatives in bringing about holistic human development and spiritual formation to its scholars.
The agreement, which started in SY 2012-2013, has benefited 15 scholars from MAPSA schools enrolled in SMFI partner schools.
Present during the MOA signing between SMFI and MAPSA are (seated, from left) MAPSA Superintendent Msgr. Gerardo Santos, SMFI-Education Executive Director Linda Atayde, SMFI Board of Trustees Felicidad T. Sy, MAPSA chairman of the Corporate Brand Cardinal Luis Antonio Tagle, and MAPSA chair for Public Affairs, Networking and Linkages Rev. Fr. Elpidio "Boy" Biliran; (standing, from left) Members of the Corporate Board of Directors of MAPSA Bishop Antonio R. Tobias, D.D., Bishop Mylo Hubert Vergara, D.D., Bishop Bernardino Cortez, D.D., Bishop Jesse Mercado, D.D., Bishop Honesto Ongtioco, D.D., and Bishop Gabriel Reyes, D.D.
About SM Foundation, Inc.
SM Foundation, Inc. is the socio-civic arm of the SM Group of Companies through which it helps the less fortunate in the communities it serves. The Foundation has four areas of advocacy: education through scholarship programs and donation of school buildings; health through medical missions, mobile clinics, and establishment of wellness and health centers; livelihood and community development; and the conduct of relief operations to victims of calamities. The Foundation intends to serve more communities as SM builds more malls around the country.