TELUS International Philippines gives team members access to academic opportunities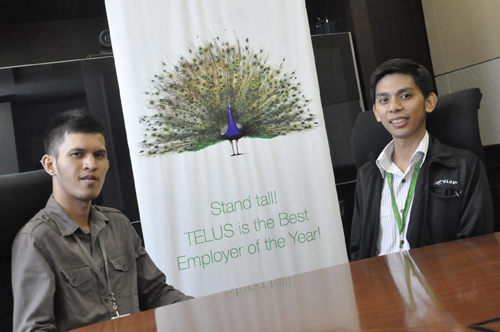 (In photo: (L-R) TELUS International University's top performers Mark Sison and Janssen Sanchez
Manila, Philippines — Top call center and outsourcing services provider TELUS International Philippines (TIP) gives young undergraduates the chance to complete their college degree through its unique employee empowerment initiative, TELUS International University (TIU). After the program's launch last year, two TIU students who finished the first semester with flying colors share their experiences on going back to school.
Aspiring to be more
In 2008, 24-year-old Mark Sison and 20-year-old Jassen Sanchez started as TIP customer service representatives. Both were happy with what they had for many reasons; a stable job, healthy working environment, and good relationships with friends and co-team members. However, there was one thing that both Sison and Sanchez still aspired for:  a bachelor's degree.
Although everything was going well with their careers, they believed that having a college diploma would provide them with more opportunities. Sison tried to continue his studies twice, but both attempts failed. Sanchez also made efforts to go back to school, but was also unsuccessful.
"I thought that finishing my studies while working would be impossible unless I choose school over work. But with things happening in my personal life, I needed to set aside my studies and concentrate on working," Sison shared. "So that's what I did."
As for Sanchez, "I was enjoying work already, but I know I'd have better chances of growth if I had a diploma. So I tried to juggle work and school, but there was always a conflict in my schedule. It wasn't easy to find a class that did not interfere with my work. I was left with no choice but to focus on my job."
On the way to a friendly future
When TIU was launched, Sison and Sanchez were among the many TIP members who applied for the undergraduate program. After a stringent qualification process that included entrance examinations and interviews, the two were accepted into the program and were part of the first batch of TIU students. They are currently enrolled in the University of Asia and the Pacific (UA&P) bachelor of arts in humanities course.
"It's actually unprecedented, especially in the industry we're in, that a company will go as far as TIP did for the welfare of its employees," Sison said. "It made me appreciate the company more."
Sanchez added, "I felt privileged to have the opportunity to finish my studies. It gives me a more positive outlook in life."
While others may be lured to seek greener pastures outside TIP, Sison and Sanchez want to give back after they complete their degree. "It is my goal to contribute even further and be able to create opportunities for others," stated Sison. "I want to be part of the TIP management team."
"Even without a diploma, I was given a lot of growth opportunities here in TIP. Just imagine what else I can do and the challenges I can take on if I graduate? My aim is to be in a better position and to give back the good things I am now provided with," Sanchez said.
Success is for everyone who works hard for it
Experience has taught Sison and Sanchez that it is not easy to juggle work and school, which takes a lot of maturity and a sense of responsibility. According to Sanchez, "You should manage your time, focus on your priorities and keep things in balance."
Sison added, "It is also important to have a positive outlook in life. If you're too stressed out, you're not at your best, and neither are the things you do."
For TIP, being an undergraduate student should not hinder any team member from becoming successful in the workplace. "Many individuals are giving up on a degree because they are compelled to work to sustain their everyday needs," stated Javier Infante, TIP president. "Unfortunately, undergraduates still have limited opportunities for growth even when they're as smart and able as those with diplomas. Through initiatives such as TIU, young people do not necessarily have to sacrifice their education because of work."
Currently, about 40 percent of TIP's workforce are undergraduates, including Sison and Sanchez. Even so, opportunities to move up the corporate ladder are offered based on performance, according to Infante. "Even without a degree, a high-performing agent is given an opportunity to take on bigger roles. Performance and a good attitude towards work are still and have always been the benchmark for success," he added.
Sison and Sanchez, along with their other batchmates at TIU have experienced growth in the company even before TIU. From being agents, Sison is now an analyst for Business Transformation and Technology Operations (BTTO), while Sanchez is a customer experience coach.
"TELUS International University is one of the many endeavors that aims to empower TELUS International Philippines team members. Now that our select undergraduates are on their way to getting a college diploma, they will be ready to take on even greater responsibilities in the future," Infante said.
About TELUS International Philippines
TELUS International Philippines, Inc. is a leading Philippines-based provider of contact center and business process outsourcing solutions. It is a subsidiary of TELUS Communications, a national telecommunications company in Canada, with $10.3 billion of annual revenue and 12.6 million customer connections including 7.2 million wireless subscribers, 3.6 million wireline network access lines, 1.3 million Internet subscribers and more than 450,000 TELUS TV customers. For more information about TELUS International, please visit telusinternational.com.